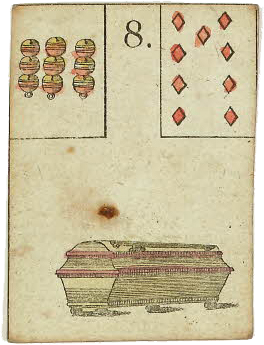 The first card drawn shows the present
1. Current situation:
Your card: Coffin
Disease. Farewell. Letting go. Standing still. As well: Finances grow. Profit. Someone has to rely on you to succeed. An official comes into play. Spiritual growth caused by suffering.
Natural end of a relationship. A new relationship is waiting. Protect yourself from bad energy. Quit current matters. Draw conclusions. Need a break. Hospital visit. It is a good time to bring something to an end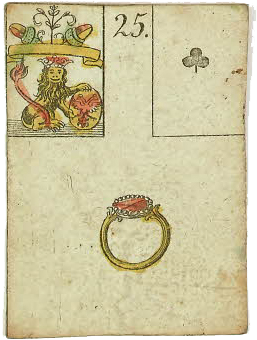 How you will reach your destination is the second card information
2. Right way:
Your card: Ring
Connection. Partnership. Marriage. Contracts. Agreements. Someone or something moves in circles. Cyclic. Representation. As well: Liabilities. Steadiness. Duty. Security. Repetition.
Stabilize your connections. A strong bond between two people. Staying together out of obligation for the sake of love. Establish a basis before you go on. Inspire others with your ideas. Make connections. Don't gamble with something. If a cycle is not interrupted, it can continue forever. Change the pattern and an event will occur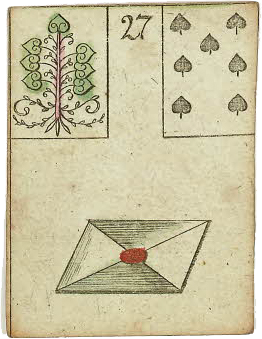 Where this way is leading to, indicates the third card
3. Future and destination:
Your card: Letter
Call. E-mail. Superficiality. As well: News. Rebound. A blockage. Something is on its way. Stagnation. Frustration.
Love letter. Letter about friendship. Receiving a positive message. Non-binding. Waiting for very personal message. Be more thorough. E-mails. Answering bills and official correspondence. Finding the proverbial hair in the soup. Watch all messages closely today. Don't be too superficial. Focus more on concentration. Don't let yourself get distracted