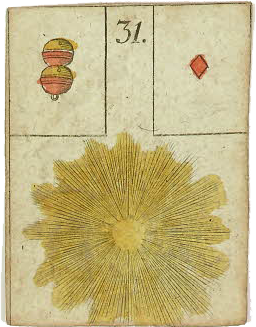 The first card drawn shows the present
1. Current situation:
Your card: Sun
Health. Warmth. Creativity. Vitality. As well: Engagement ring. Endless wonders. Positive influence.
Someone can give a lot of love. Good care. Luck. Generosity. Not being cared about enough. Lack of empathy. Dreams are fulfilled. Caring for health. Enjoy the good times. Overcoming obstacles with full force. Take your chance. Know your options. Solving conflicts. Finding encouragement, healing, and hope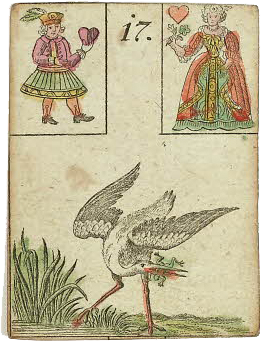 How you will reach your destination is the second card information
2. Right way:
Your card: Stork
Journey. Move. Changing jobs. Flexibility. As well: Turning back. Mother figure. Transformation.
This card represents constant change. Look at the surrounding cards to find out to what is changing or affected by change. Start changes. Change by or through partnership. You should think about a reversal. Change your life. Take action to start something new. Don't move in the wrong direction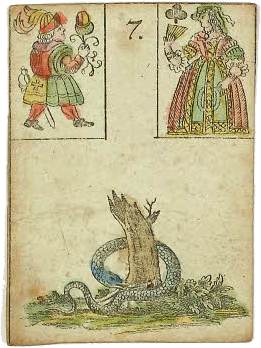 Where this way is leading to, indicates the third card
3. Future and destination:
Your card: Snake
Personal card. Entanglements. Deceit. Intelligence. Seduction.. As well: An intelligent woman. Someone who likes activity. Good judgement. Happy to be included.
Someone who likes to seduce others. Someone who pursues their objectives. Warning against female rival. Someone selfish. An enemy. Funded by a wise woman. Keep a clear head. Do it prudently. Think twice before you act