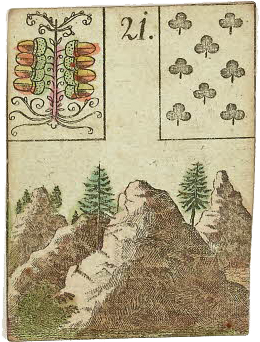 The first card drawn shows the present
1. Current situation:
Your card: Mountain
Personal card. Block. Inhibitions. Frustration. As well: Big. Strong. Good-natured.
Desire to overcome obstacles to love and to find understanding. Longing for someone or something. Infatuation that prevents you from going ahead. Don't be stubborn. Look for another solution. Be diplomatic. Avoid quarrels. Finding another way. Expecting difficulties or loss. Disability. Accept a challenge. Rethink and search for alternatives. Be patient. Wait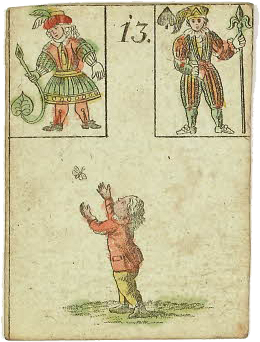 How you will reach your destination is the second card information
2. Right way:
Your card: Child
Personal card. Child. Curiosity. Innocence. Free and unburdened. Small. As well: One's own child up to puberty. Youth. Growth.
Childhood. Open to new friends. Dependent. New love. Natural state. Immaturity. Bad planning. Love has to grow. Apprenticeship. Purity. Let your inner child out. Start from the beginning. It's a good time for a new start. Forget about everything. Let yourself be guided by reason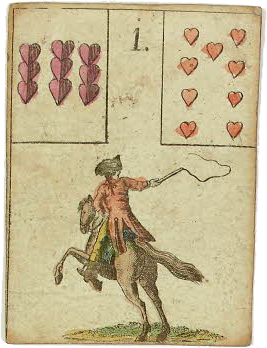 Where this way is leading to, indicates the third card
3. Future and destination:
Your card: Rider
Personal card. Transportation. Good message. Something will be moved. New beginning. Bad cards will be softened, good cards strengthened. As well: Fulfilled desires. Success. Victory. A dream come true. Self-esteem. Nice surprise.
Someone new will come into your life. Old passion is rekindled. Lack of engagement. Bad messages. Decisions instead of reactions. Sometimes arrogant. You will receive a delivery or registered mail. Act quickly. Take your chance. Love for details. Too many projects. You can't finish everything you have started. Don't move too fast