Your Lenormand reading: Past, present, future
You drew these three cards :
Moon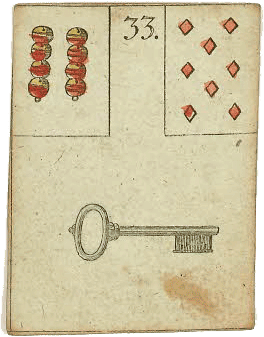 Snake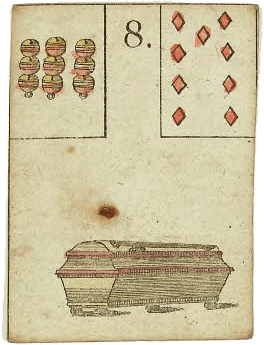 Key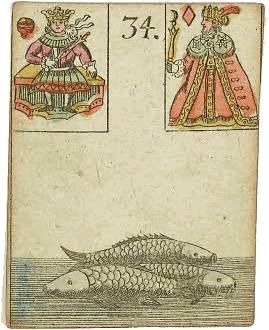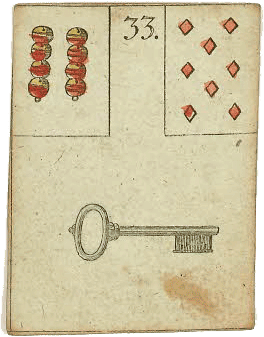 The first card drawn shows the present.
1. Current situation:
Your card: Moon
Mirror of the soul. Emotional needs. Intuition. Fame and honor or social recognition. Auch: Requited love and feelings of admiration. Conflicting emotions. Satisfaction.
Romantic fantasies. Daydreaming about love. You can't handle too much closeness. Relationship with deep feelings. Take things easy for a while. Step back. Pay more attention to feelings of others and your own feelings. Night shift. Look after your nerves. Don't work too hard
Choose your option: Draw a card, short current overview, make the right decision and general life situation.
Here you can draw and interpret your tarot cards for free - use major and minor arcana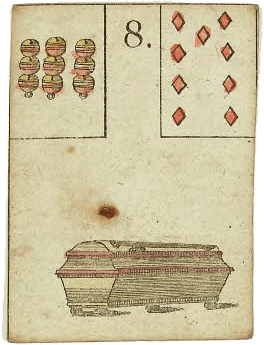 How you will reach your destination is the second card information?.
2. Right way:
Your card: Snake
Personal card. Entanglements. Deceit. Intelligence. Seduction.. Auch: An intelligent woman. Someone who likes activity. Good judgement. Happy to be included.
Someone who likes to seduce others. Someone who pursues their objectives. Warning against female rival. Someone selfish. An enemy. Funded by a wise woman. Keep a clear head. Do it prudently. Think twice before you act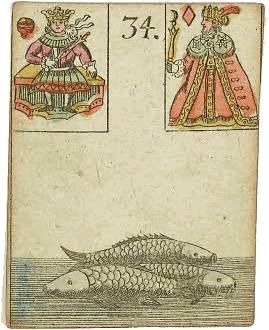 Where this way is leading to, indicates the third card.
3. Future and destination:
Your card: Key
Something will happen no matter what. Key to success. Fulfillment. Something stays closed. Auch: Solution is within reach. Taxes. Budgeting. Financial planning. Something to unlock or complete.
Karmic connection. Someone remains closed-off. Secure relationship. Nothing can go wrong. Just wait to see who wants to meet you in the near future. Stable relationship. Before you make a decision, carefully look at what is important. Move forward. Open yourself in the areas of your relationship that need more attention. Develop a plan B
Comments
Linda - 2021-02-18 21:56:03
I like this reading.
Osiris - 2021-02-19 19:28:41
Great reading! Spot on...
Kunstler - 2021-02-21 03:52:43
Very relevant and accurate to my circumstances
Oboro Clan Shinobi - 2021-05-28 04:34:47
If this is destiny so be it!
Joy - 2021-06-27 13:37:49
Seems very prophetic
riggie - 2021-07-23 06:35:10
i hope it comes true
romina - 2021-08-26 18:59:07
i hope it will be true , cause this days my parents banned me to see someone who i love so much
tessy - 2021-10-13 15:36:35
perfect reading
Jess... - 2021-10-17 03:23:14
Having Clover + Fish + Bear as my cards... WOW!!!
Love it... and I am ready
So be it !!
Cristy - 2021-10-18 04:24:32
My favorite spread……always illuminating……and filled with wisdom and guidance! ❤️
Chris - 2022-02-02 16:55:54
Very interesting past, present, future reading. Very good resource for someone who usually does their own readings but wants one done for themself to get clarity :) Make sure you focus on the question before pulling cards here. It helps.
Cat - 2022-04-04 12:51:16
Very accurate reading thank you.
Joann - 2022-04-30 16:52:09
Excellent enlightenment and it really was able to bring clarity to my situation great reading it was very spot on

Total 13 posts
* Required