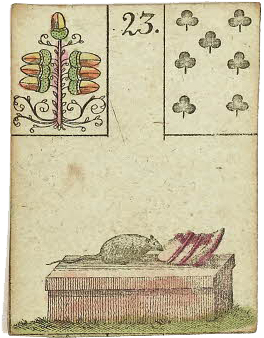 The first card drawn shows the present
1. Current situation:
Your card: Mice
Something gnaws at conscience. Theft. Slow decrease. Defeat. Failure. As well: Hard work. A dispute. Spiritual / occult learning. Studies. Hope will not be realized.
You are running out of time. Loss of sorrows. Promises are not met. Loss of relationships. Be careful. Pay attention to small signs. Happiness is threatened. Solve your problem systematically. Act quickly. Remain alert. Take more time to be compassionate. Nervousness. Stay true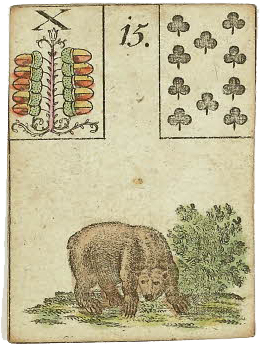 How you will reach your destination is the second card information
2. Right way:
Your card: Bear
Personal card. Boss. Stubbornness. Older or official person. Strength. Power. Possession. As well: Luck. Progress in work. Find an agreement.
A father figure. A protector. A sober person. Presumptuous. Intimidating. Rival. Ex-husband. A coach. Trust someone. Body-builder. Be assertive. Trust yourself. Avoid people who envy your luck. Aggressive. Mobbing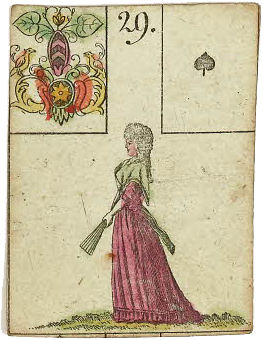 Where this way is leading to, indicates the third card
3. Future and destination:
Your card: Woman
Yourself, or Queen of Hearts / wife / partner when the person seeking advice is male. If there is a wife and a lover, then this card represents the lover. In this case wife / girlfriend would be the Snake. As well: End of a cycle. New beginning by transformation.
Well-developed female characteristics. Illuminate sources of tension. Happiness in love is questioned. Your own needs should take priority. Make your own decisions. Win recognition. If you are a man: Listen more to your partner's opinion. Show her how important she is