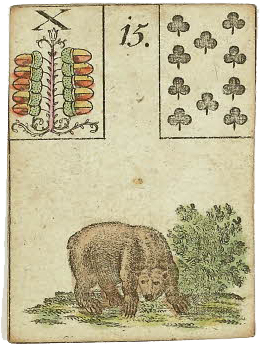 The first card drawn shows the present
1. Current situation:
Your card: Bear
Personal card. Boss. Stubbornness. Older or official person. Strength. Power. Possession. As well: Luck. Progress in work. Find an agreement.
A father figure. A protector. A sober person. Presumptuous. Intimidating. Rival. Ex-husband. A coach. Trust someone. Body-builder. Be assertive. Trust yourself. Avoid people who envy your luck. Aggressive. Mobbing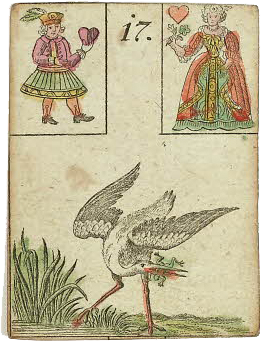 How you will reach your destination is the second card information
2. Right way:
Your card: Stork
Journey. Move. Changing jobs. Flexibility. As well: Turning back. Mother figure. Transformation.
This card represents constant change. Look at the surrounding cards to find out to what is changing or affected by change. Start changes. Change by or through partnership. You should think about a reversal. Change your life. Take action to start something new. Don't move in the wrong direction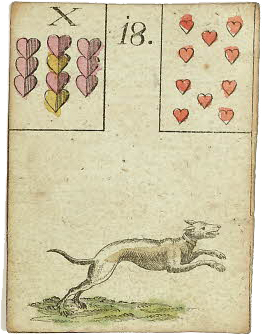 Where this way is leading to, indicates the third card
3. Future and destination:
Your card: Dog
Personal card. Loyalty. Binding. Hold tight. Trust. Help. Benevolence. As well: Building lasting foundations. Ground yourself. Return to nature.
A very good and loyal friend. Someone whom you know well and trust. Patiently waiting for something. Don't doubt the loyalty of a certain person. Someone who represents your interests, for example: doctors, financial advisors or book holders. View the surrounding cards to get more information. Don't cancel treatment. Attempting to hurt someone. People you can rely on blindly