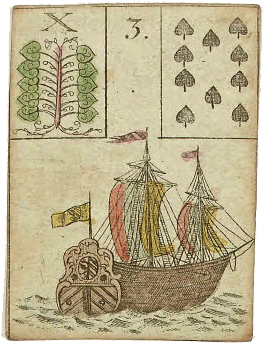 The first card drawn shows the present.
1. Current situation:
Your card: Clover
Luck. Good job. No reason to worry. Opportune time. Auch: Positive output when acting quickly. Loan. Investments. Some money. Shyness. Nervousness. Seclusion. Hinderance of growth.
Love is growing steadily and still young. Meeting by accident. Unexpected flirt or visitor. Happy moments with friends. Creativity and luck. One-night stand. Rapidly falling in and out of love. Lack of creativity. A lucky streak comes to an end. Realize your plan. A small recognition for your work. Putting one's ideas into practice. Lack of creativity. Bad planning. To go unnoticed. Being passed over for a promotion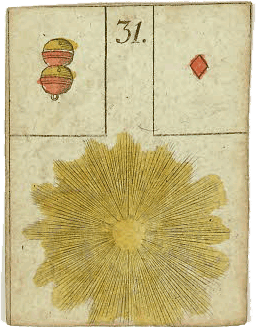 How you will reach your destination is the second card information?.
2. Right way:
Your card: Lily
Harmony. Family. Intimacy. Auch: Peace. Consistency. Old age.
Mature. Experience. Sexual appetite. Keeping the peace. Sexual deviation. Someone who likes younger partners. Harmonic partnership. Don't take love for granted. Don't cause a stir. Clear the air. Be careful not to exaggerate. Letting something rest in peace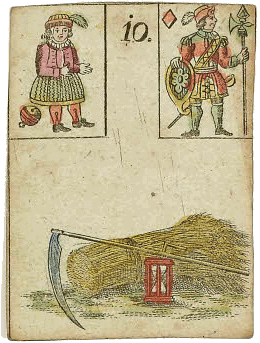 Where this way is leading to, indicates the third card.
3. Future and destination:
Your card: Bouquet
Personal card. Joy. Gift. Invitation. Hope. Satisfaction. Creativity and diversity. Auch: Courtesy. Harmony. Engagement.
Sociable woman. Happy moments spent with laughter and good hope. Exuberance can sometimes frighten others. Turn on your charm. Small touches that go down well. Funded by help. Don't let them provoke you. Remain polite
Comments
Linda - 2021-02-18 21:56:03
I like this reading.
Osiris - 2021-02-19 19:28:41
Great reading! Spot on...
Kunstler - 2021-02-21 03:52:43
Very relevant and accurate to my circumstances
Oboro Clan Shinobi - 2021-05-28 04:34:47
If this is destiny so be it!
Joy - 2021-06-27 13:37:49
Seems very prophetic
riggie - 2021-07-23 06:35:10
i hope it comes true
romina - 2021-08-26 18:59:07
i hope it will be true , cause this days my parents banned me to see someone who i love so much
tessy - 2021-10-13 15:36:35
perfect reading
Jess... - 2021-10-17 03:23:14
Having Clover + Fish + Bear as my cards... WOW!!!
Love it... and I am ready
So be it !!
Cristy - 2021-10-18 04:24:32
My favorite spread……always illuminating……and filled with wisdom and guidance! ❤️