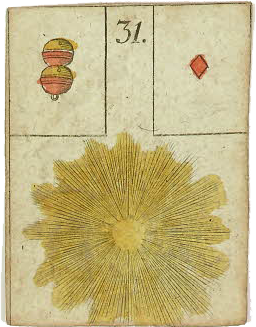 The first card drawn shows the present
1. Current situation:
Your card: Sun
Health. Warmth. Creativity. Vitality. As well: Engagement ring. Endless wonders. Positive influence.
Someone can give a lot of love. Good care. Luck. Generosity. Not being cared about enough. Lack of empathy. Dreams are fulfilled. Caring for health. Enjoy the good times. Overcoming obstacles with full force. Take your chance. Know your options. Solving conflicts. Finding encouragement, healing, and hope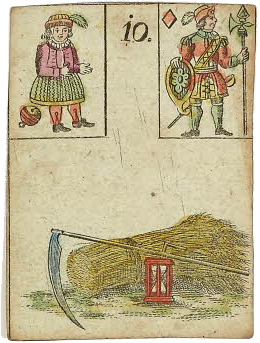 How you will reach your destination is the second card information
2. Right way:
Your card: Scythe
Risk. Unexpected development. Acute condition. Something sudden and surprising. As well: Where the scythe is pointing is the danger. Restless and full of nervous energy. Immature and impetuous.
The sudden end of something. Look you at the surrounding cards to see which topic is concerned. You will reap what you sow. Surprising love. Don't hesitate to use your weapons. Don't make far-reaching decisions. Be extra careful. Change of job. Watch out that you don't hurt yourself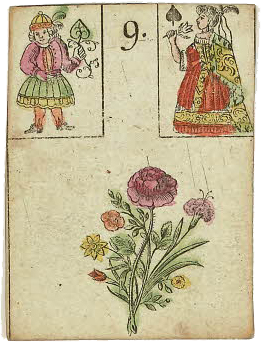 Where this way is leading to, indicates the third card
3. Future and destination:
Your card: Bouquet
Personal card. Joy. Gift. Invitation. Hope. Satisfaction. Creativity and diversity. As well: Courtesy. Harmony. Engagement.
Sociable woman. Happy moments spent with laughter and good hope. Exuberance can sometimes frighten others. Turn on your charm. Small touches that go down well. Funded by help. Don't let them provoke you. Remain polite