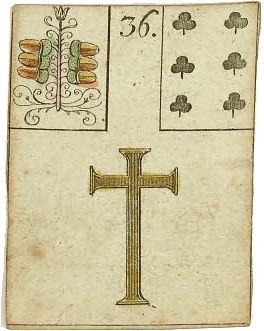 The first card drawn shows the present.
1. Current situation:
Your card: Anchor
Work. Profession. Good business. Auch: What goes around comes around. Addictions.
An open relationship in which you are free to stay or go. Being the proverbial anchor in relationships. Learn to let it go. Loyalty in love. Beware of being too dependent. Seasonal work. Your efforts will bear fruit. Put your career interests first. Let go of rigid thought patterns. Engage yourself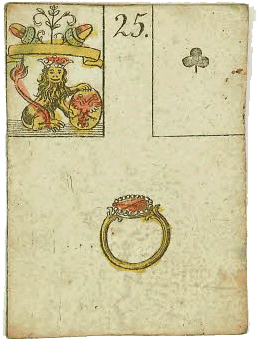 How you will reach your destination is the second card information?.
2. Right way:
Your card: Heart
Warmth. Luck. Partnership. Intimate emotions. Put your whole heart into it. Auch: Helpfulness. Lover. Someone is expected. Unmarried or immature.
Everything happens according to your wishes. Someone who is loved and appreciated. An affair. Sexual suggestions. The one you love will empower you. Vulnerability. Give your heart away. Track your route. Rely on the people you love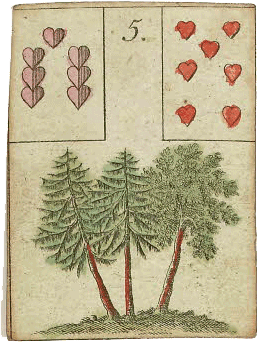 Where this way is leading to, indicates the third card.
3. Future and destination:
Your card: House
Stability. House. Family. Authority. Auch: Father figure. Husband. Man who is loved. Man who cares about the person for whom the cards are placed. Importance of this person.
Familiar. Warm. Calm and safe. Your own body. Security. Long-term partnership. A good time to forge future plans. Long-term security should be the goal. Go for promotion. Don't build your foundation on sand
Comments
Linda - 2021-02-18 21:56:03
I like this reading.
Osiris - 2021-02-19 19:28:41
Great reading! Spot on...
Kunstler - 2021-02-21 03:52:43
Very relevant and accurate to my circumstances
Oboro Clan Shinobi - 2021-05-28 04:34:47
If this is destiny so be it!
Joy - 2021-06-27 13:37:49
Seems very prophetic
riggie - 2021-07-23 06:35:10
i hope it comes true
romina - 2021-08-26 18:59:07
i hope it will be true , cause this days my parents banned me to see someone who i love so much
tessy - 2021-10-13 15:36:35
perfect reading
tessy - 2021-10-13 15:39:10
nice
Total 9 posts
* Required