Your free monthly Lenormand reading
You drew the card
Woman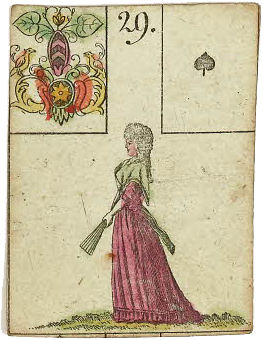 Main theme for this month:
Yourself, or Queen of Hearts / wife / partner when the person seeking advice is male. If there is a wife and a lover, then this card represents the lover. In this case wife / girlfriend would be the Snake.
This card can also indicate:
End of a cycle. New beginning by transformation.
Within love, relationship and partnership the card Woman signifies:
Well-developed female characteristics. There can be also another meaning: Illuminate sources of tension. Happiness in love is questioned
It points to:
Your own needs should take priority. Make your own decisions. But also: Win recognition. If you are a man: Listen more to your partner's opinion. Show her how important she is.