Your free daily Lenormand reading
You drew the card

Man

: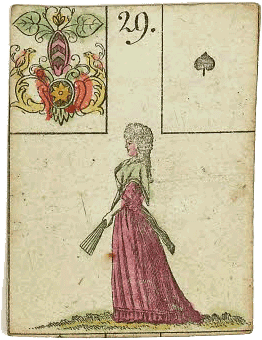 Main theme for this day:
Questioner himself, or King of Hearts / husband / partner when the person seeking advice is a woman. If there is a husband and a lover, then this card represents the lover. In this case husband / boyfriend would be the Bear.
This card can also indicate:
House. Seat of the soul.
Within love, relationship and partnership the card Man signifies:
Well developed male characteristics and traits. If you are a woman: Listen more to your partner's opinion. Show him that he is important. Sie kann aber auch eine andere Bedeutung haben: Competing with partners. Happiness in love is questioned
It points to:
Use your fighting skills. Go to the foreground. Make decisions. Oder aber auch: Don't pressure your partner if they are weak. Don't listen to what others say. Winning recognition.