Your Lenormand reading - The Cross
You put these four cards:
| | | |
| --- | --- | --- |
| | 3. Right way: | |
| 1. Theme: | | 2. Wrong way: |
| | 4. Destination: | |
The first card describes the starting position. .
1. Theme:
Your card: Moon
Mirror of the soul. Emotional needs. Intuition. Fame and honor or social recognition. As well: Requited love and feelings of admiration. Conflicting emotions. Satisfaction.
Romantic fantasies. Daydreaming about love. You can't handle too much closeness. Relationship with deep feelings. Take things easy for a while. Step back. Pay more attention to feelings of others and your own feelings. Night shift. Look after your nerves. Don't work too hard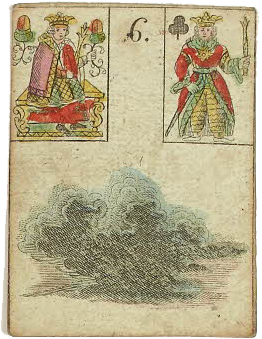 What to avoid and what's the wrong way? This tells the second card.
2. Wrong way:
Your card: Clouds
Ambiguities. Difficulties. Lack of perspective. Confusion caused by medication or something else. As well: Dreams. Problems. Lack of independence. Getting things by cheating.
Looking at partnership from a different perspective. Short-term problems. Fear of excessive demand. Confusion. Mourning. Depression. Listen to the inner voice. Take difficulties seriously. Make a fresh start. Avoiding great efforts. Don't take the emotional aspect out of consideration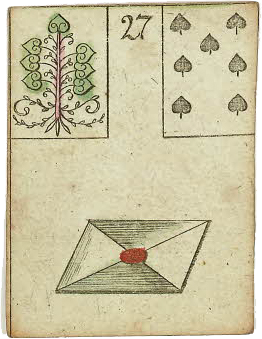 The third card shows the right direction. This is what you can do.
3. Right way:
Your card: Letter
Call. E-mail. Superficiality. As well: News. Rebound. A blockage. Something is on its way. Stagnation. Frustration.
Love letter. Letter about friendship. Receiving a positive message. Non-binding. Waiting for very personal message. Be more thorough. E-mails. Answering bills and official correspondence. Finding the proverbial hair in the soup. Watch all messages closely today. Don't be too superficial. Focus more on concentration. Don't let yourself get distracted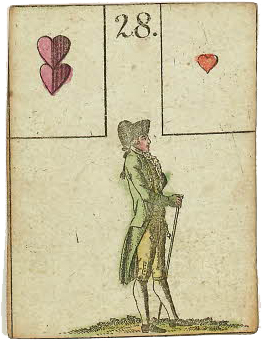 The fourth card shows a solution on how to get there.
4. Destination:
Your card: Man
Questioner himself, or King of Hearts / husband / partner when the person seeking advice is a woman. If there is a husband and a lover, then this card represents the lover. In this case husband / boyfriend would be the Bear. As well: House. Seat of the soul.
Well developed male characteristics and traits. If you are a woman: Listen more to your partner's opinion. Show him that he is important. Competing with partners. Happiness in love is questioned. Use your fighting skills. Go to the foreground. Make decisions. Don't pressure your partner if they are weak. Don't listen to what others say. Winning recognition