Your Lenormand reading - The Cross
You put these four cards:
| | | |
| --- | --- | --- |
| | 3. Right way: | |
| 1. Theme: | | 2. Wrong way: |
| | 4. Destination: | |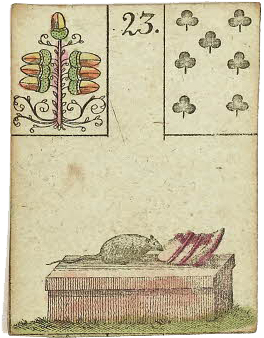 The first card describes the starting position. .
1. Theme:
Your card: Mice
Something gnaws at conscience. Theft. Slow decrease. Defeat. Failure. As well: Hard work. A dispute. Spiritual / occult learning. Studies. Hope will not be realized.
You are running out of time. Loss of sorrows. Promises are not met. Loss of relationships. Be careful. Pay attention to small signs. Happiness is threatened. Solve your problem systematically. Act quickly. Remain alert. Take more time to be compassionate. Nervousness. Stay true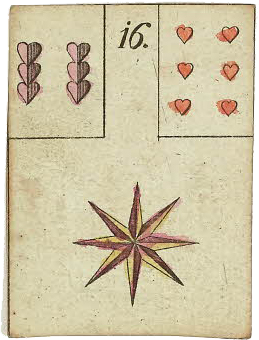 What to avoid and what's the wrong way? This tells the second card.
2. Wrong way:
Your card: Star
Inspiration. Spirituality. Knowledge. Great happiness. As well: Attraction. A karmic relationship. A brother or friend. Love story.
Dreaming of someone or longing for someone. Fulfilled love. Someone under a lucky star. Unrealistic expectation. Addiction. Listen to your inner voice and you will be successful. Recognition. Camping or hiking in the wild. Don't lose touch with reality. Avoiding stress and getting enough sleep. Don't daydream too much. Take care. Take advantage of this lucky period and achieve good results. Change things if you can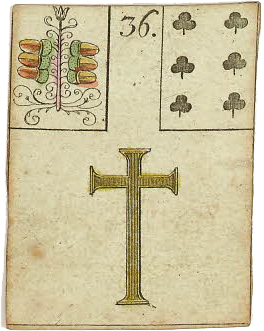 The third card shows the right direction. This is what you can do.
3. Right way:
Your card: Cross
Burden. Karma. Salvation. Something is unavoidable. Key event. As well: Taking initiative. Taking responsibility. Educate yourself.
Partner for life. Being there for each other. Silent suffering. Unrequited love. Partnership is put to the test. Sacrifice yourself for the common good. Religious attitudes. Action. Accept upcoming tasks. Listen to well-meaning advice. Doing things carefully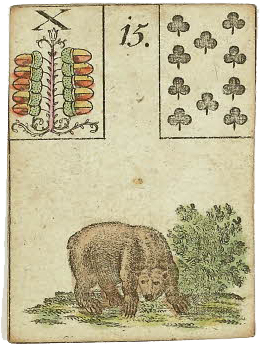 The fourth card shows a solution on how to get there.
4. Destination:
Your card: Bear
Personal card. Boss. Stubbornness. Older or official person. Strength. Power. Possession. As well: Luck. Progress in work. Find an agreement.
A father figure. A protector. A sober person. Presumptuous. Intimidating. Rival. Ex-husband. A coach. Trust someone. Body-builder. Be assertive. Trust yourself. Avoid people who envy your luck. Aggressive. Mobbing