Your Lenormand reading - The Cross
You put these four cards:
| | | |
| --- | --- | --- |
| | 3. Right way: | |
| 1. Theme: | | 2. Wrong way: |
| | 4. Destination: | |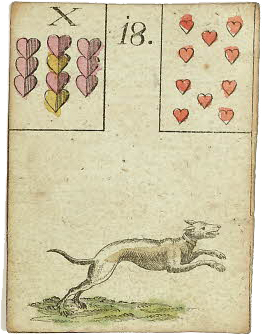 The first card describes the starting position. .
1. Theme:
Your card: Dog
Personal card. Loyalty. Binding. Hold tight. Trust. Help. Benevolence. As well: Building lasting foundations. Ground yourself. Return to nature.
A very good and loyal friend. Someone whom you know well and trust. Patiently waiting for something. Don't doubt the loyalty of a certain person. Someone who represents your interests, for example: doctors, financial advisors or book holders. View the surrounding cards to get more information. Don't cancel treatment. Attempting to hurt someone. People you can rely on blindly
What to avoid and what's the wrong way? This tells the second card.
2. Wrong way:
Your card: Key
Something will happen no matter what. Key to success. Fulfillment. Something stays closed. As well: Solution is within reach. Taxes. Budgeting. Financial planning. Something to unlock or complete.
Karmic connection. Someone remains closed-off. Secure relationship. Nothing can go wrong. Just wait to see who wants to meet you in the near future. Stable relationship. Before you make a decision, carefully look at what is important. Move forward. Open yourself in the areas of your relationship that need more attention. Develop a plan B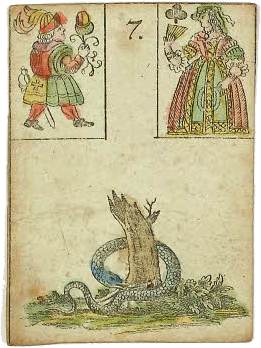 The third card shows the right direction. This is what you can do.
3. Right way:
Your card: Snake
Personal card. Entanglements. Deceit. Intelligence. Seduction.. As well: An intelligent woman. Someone who likes activity. Good judgement. Happy to be included.
Someone who likes to seduce others. Someone who pursues their objectives. Warning against female rival. Someone selfish. An enemy. Funded by a wise woman. Keep a clear head. Do it prudently. Think twice before you act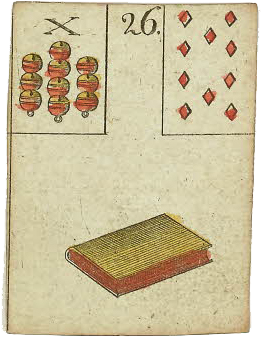 The fourth card shows a solution on how to get there.
4. Destination:
Your card: Book
Secret. Secrecy. The unknown. Education. As well: The unconscious. Secret knowledge. Transcendence.
Be discreet. Run away with someone. Keep something quiet. Hide an affair. Fraud. Something is not official yet. Safety check. Something good to know. Beware of someone having influence. Wait a little longer. Share your knowledge. Get to know the hidden sides of your partner. Fool the public. Beware of fraud