Your Lenormand reading - The Cross
You put these four cards:
| | | |
| --- | --- | --- |
| | 3. Right way: | |
| 1. Theme: | | 2. Wrong way: |
| | 4. Destination: | |
The first card describes the starting position. .
1. Theme:
Your card: Way
A decision is pending. Choice. More options. Tolerance. As well: Make a decision. A mature woman. Possibilities. Influenced through money.
Willingness to compromise. Don't listen to what other people say. New possibilities. Two paths cross. Leave something behind you. Change of heart. Love is at a turning point. Make decisions. Look for alternatives. Remain true to yourself. Don't wait any longer. Don't remain at the wheel. Trust your decision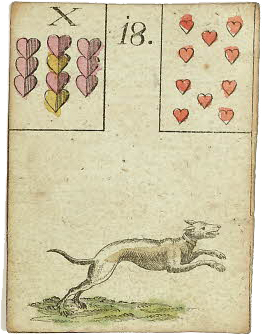 What to avoid and what's the wrong way? This tells the second card.
2. Wrong way:
Your card: Dog
Personal card. Loyalty. Binding. Hold tight. Trust. Help. Benevolence. As well: Building lasting foundations. Ground yourself. Return to nature.
A very good and loyal friend. Someone whom you know well and trust. Patiently waiting for something. Don't doubt the loyalty of a certain person. Someone who represents your interests, for example: doctors, financial advisors or book holders. View the surrounding cards to get more information. Don't cancel treatment. Attempting to hurt someone. People you can rely on blindly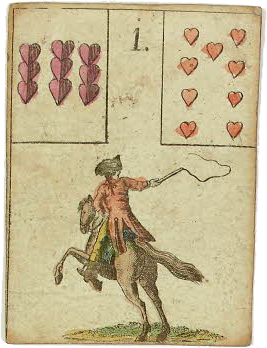 The third card shows the right direction. This is what you can do.
3. Right way:
Your card: Rider
Personal card. Transportation. Good message. Something will be moved. New beginning. Bad cards will be softened, good cards strengthened. As well: Fulfilled desires. Success. Victory. A dream come true. Self-esteem. Nice surprise.
Someone new will come into your life. Old passion is rekindled. Lack of engagement. Bad messages. Decisions instead of reactions. Sometimes arrogant. You will receive a delivery or registered mail. Act quickly. Take your chance. Love for details. Too many projects. You can't finish everything you have started. Don't move too fast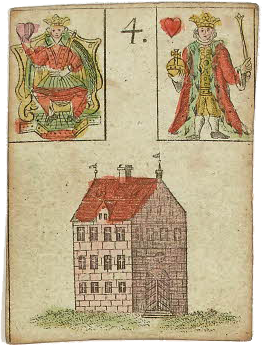 The fourth card shows a solution on how to get there.
4. Destination:
Your card: House
Stability. House. Family. Authority. As well: Father figure. Husband. Man who is loved. Man who cares about the person for whom the cards are placed. Importance of this person.
Familiar. Warm. Calm and safe. Your own body. Security. Long-term partnership. A good time to forge future plans. Long-term security should be the goal. Go for promotion. Don't build your foundation on sand