Your Lenormand reading - The Cross
You put these four cards :

3. Right way: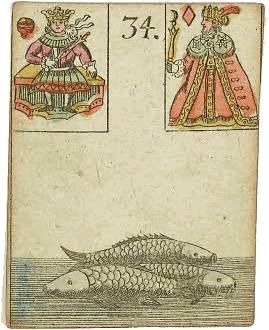 1. Theme: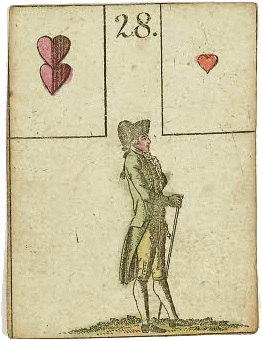 2. Wrong way: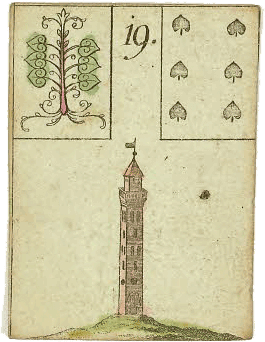 4. Destination: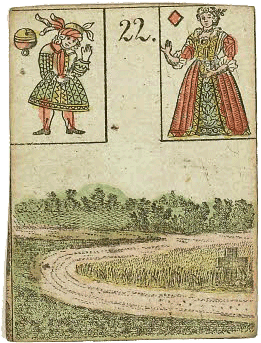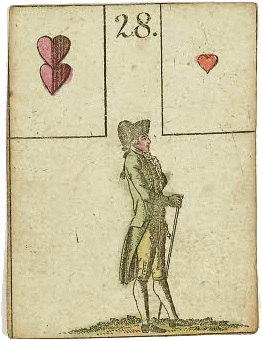 The first card describes the starting position.
1. Theme:
Your card: Letter
Call. E-mail. Superficiality. Auch: News. Rebound. A blockage. Something is on its way. Stagnation. Frustration.
Love letter. Letter about friendship. Receiving a positive message. Non-binding. Waiting for very personal message. Be more thorough. E-mails. Answering bills and official correspondence. Finding the proverbial hair in the soup. Watch all messages closely today. Don't be too superficial. Focus more on concentration. Don't let yourself get distracted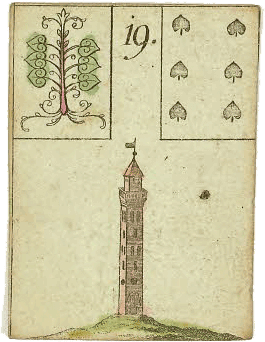 What to avoid and what's the wrong way? This tells the second card .
2. Wrong way:
Your card: Dog
Personal card. Loyalty. Binding. Hold tight. Trust. Help. Benevolence. Auch: Building lasting foundations. Ground yourself. Return to nature.
A very good and loyal friend. Someone whom you know well and trust. Patiently waiting for something. Don't doubt the loyalty of a certain person. Someone who represents your interests, for example: doctors, financial advisors or book holders. View the surrounding cards to get more information. Don't cancel treatment. Attempting to hurt someone. People you can rely on blindly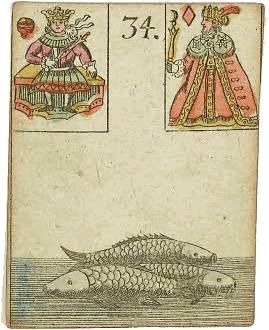 The third card shows the right direction. This is what you can do.
3. Right way:
Your card: Key
Something will happen no matter what. Key to success. Fulfillment. Something stays closed. Auch: Solution is within reach. Taxes. Budgeting. Financial planning. Something to unlock or complete.
Karmic connection. Someone remains closed-off. Secure relationship. Nothing can go wrong. Just wait to see who wants to meet you in the near future. Stable relationship. Before you make a decision, carefully look at what is important. Move forward. Open yourself in the areas of your relationship that need more attention. Develop a plan B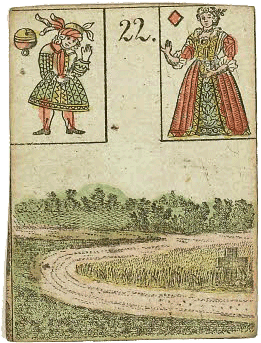 The fourth card shows a solution on how to get there.
4. Destination:
Your card: Mountain
Personal card. Block. Inhibitions. Frustration. Auch: Big. Strong. Good-natured.
Desire to overcome obstacles to love and to find understanding. Longing for someone or something. Infatuation that prevents you from going ahead. Don't be stubborn. Look for another solution. Be diplomatic. Avoid quarrels. Finding another way. Expecting difficulties or loss. Disability. Accept a challenge. Rethink and search for alternatives. Be patient. Wait
Comments
Faye - 2021-09-09 07:03:42
Thank you, this is perfect better than real one prediction with a deck
monica - 2021-09-15 23:24:42
This reading helped me put my thoughts into actions. Bright blessings.
Cristy - 2021-10-30 03:04:07
Thank you for tihis website…. The answers are amazing and speak to my heart. ❤️
Krisi - 2022-05-02 21:30:53
Thanks s lot for prognoze....I know how difficult is to make desicion when you is not so strong like 2 jears sho..blessing!
MARIA - 2022-10-19 05:13:35
haha wow this is very impresive, and very accurate!! i love itttt
Total 5 posts
* Required