Your Lenormand reading - The Cross
You put these four cards :

3. Right way: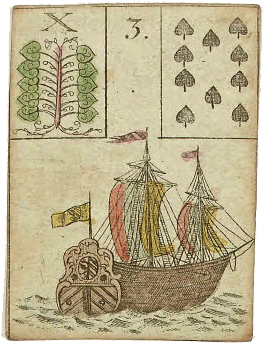 1. Theme: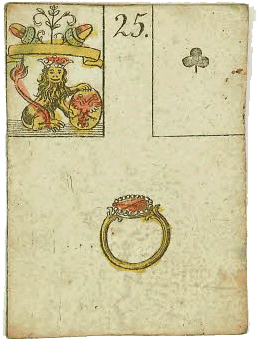 2. Wrong way: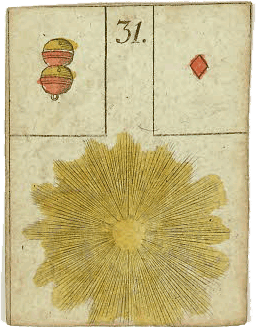 4. Destination: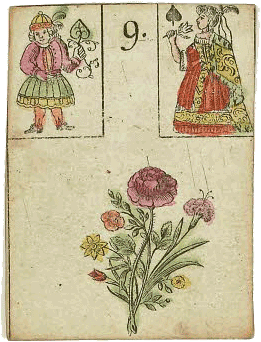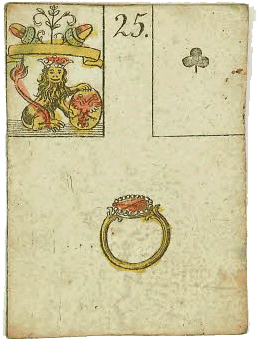 The first card describes the starting position.
1. Theme:
Your card: Heart
Warmth. Luck. Partnership. Intimate emotions. Put your whole heart into it. Alternative: Helpfulness. Lover. Someone is expected. Unmarried or immature.
Everything happens according to your wishes. Someone who is loved and appreciated. An affair. Sexual suggestions. The one you love will empower you. Vulnerability. Give your heart away. Track your route. Rely on the people you love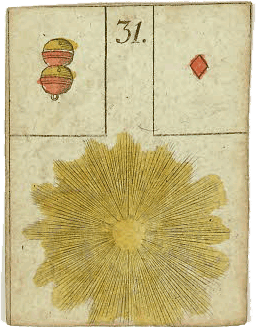 What to avoid and what's the wrong way? This tells the second card .
2. Wrong way:
Your card: Lily
Harmony. Family. Intimacy. Alternative: Peace. Consistency. Old age.
Mature. Experience. Sexual appetite. Keeping the peace. Sexual deviation. Someone who likes younger partners. Harmonic partnership. Don't take love for granted. Don't cause a stir. Clear the air. Be careful not to exaggerate. Letting something rest in peace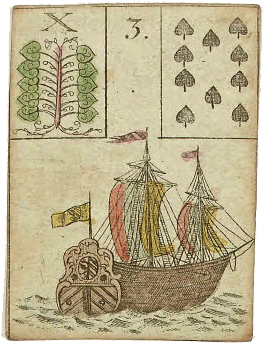 The third card shows the right direction. This is what you can do.
3. Right way:
Your card: Clover
Luck. Good job. No reason to worry. Opportune time. Alternative: Positive output when acting quickly. Loan. Investments. Some money. Shyness. Nervousness. Seclusion. Hinderance of growth.
Love is growing steadily and still young. Meeting by accident. Unexpected flirt or visitor. Happy moments with friends. Creativity and luck. One-night stand. Rapidly falling in and out of love. Lack of creativity. A lucky streak comes to an end. Realize your plan. A small recognition for your work. Putting one's ideas into practice. Lack of creativity. Bad planning. To go unnoticed. Being passed over for a promotion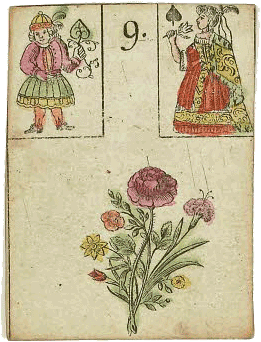 The fourth card shows a solution on how to get there.
4. Destination:
Your card: Coffin
Disease. Farewell. Letting go. Standing still. Alternative: Finances grow. Profit. Someone has to rely on you to succeed. An official comes into play. Spiritual growth caused by suffering.
Natural end of a relationship. A new relationship is waiting. Protect yourself from bad energy. Quit current matters. Draw conclusions. Need a break. Hospital visit. It is a good time to bring something to an end
Comments
Faye - 2021-09-09 07:03:42
Thank you, this is perfect better than real one prediction with a deck
monica - 2021-09-15 23:24:42
This reading helped me put my thoughts into actions. Bright blessings.
Cristy - 2021-10-30 03:04:07
Thank you for tihis website…. The answers are amazing and speak to my heart. ❤️
Krisi - 2022-05-02 21:30:53
Thanks s lot for prognoze....I know how difficult is to make desicion when you is not so strong like 2 jears sho..blessing!
MARIA - 2022-10-19 05:13:35
haha wow this is very impresive, and very accurate!! i love itttt
Total 5 posts
* Required