Your Lenormand reading - The Cross
You put these four cards:
| | | |
| --- | --- | --- |
| | 3. Right way: | |
| 1. Theme: | | 2. Wrong way: |
| | 4. Destination: | |
The first card describes the starting position. .
1. Theme:
Your card: Moon
Mirror of the soul. Emotional needs. Intuition. Fame and honor or social recognition. As well: Requited love and feelings of admiration. Conflicting emotions. Satisfaction.
Romantic fantasies. Daydreaming about love. You can't handle too much closeness. Relationship with deep feelings. Take things easy for a while. Step back. Pay more attention to feelings of others and your own feelings. Night shift. Look after your nerves. Don't work too hard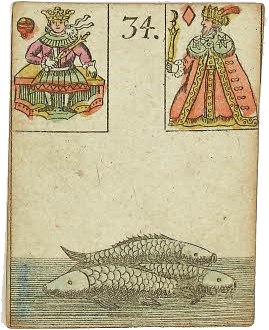 What to avoid and what's the wrong way? This tells the second card.
2. Wrong way:
Your card: Fish
Finances. Subconscious forces. Mental balance. Drug addiction. As well: A mature man. Restless and nervous. Deep emotions. Influenced by money.
Relationship with a soul mate. Lucrative connection. Avoid emotional outbursts. Love of possessions. Listen to your inner voice. Check your financial affairs; you may have overlooked something. Alcohol in moderation is necessary. Entrepreneurship. Follow your intuition. Good earning potential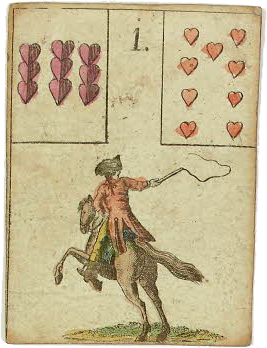 The third card shows the right direction. This is what you can do.
3. Right way:
Your card: Rider
Personal card. Transportation. Good message. Something will be moved. New beginning. Bad cards will be softened, good cards strengthened. As well: Fulfilled desires. Success. Victory. A dream come true. Self-esteem. Nice surprise.
Someone new will come into your life. Old passion is rekindled. Lack of engagement. Bad messages. Decisions instead of reactions. Sometimes arrogant. You will receive a delivery or registered mail. Act quickly. Take your chance. Love for details. Too many projects. You can't finish everything you have started. Don't move too fast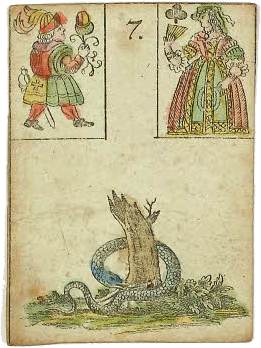 The fourth card shows a solution on how to get there.
4. Destination:
Your card: Snake
Personal card. Entanglements. Deceit. Intelligence. Seduction.. As well: An intelligent woman. Someone who likes activity. Good judgement. Happy to be included.
Someone who likes to seduce others. Someone who pursues their objectives. Warning against female rival. Someone selfish. An enemy. Funded by a wise woman. Keep a clear head. Do it prudently. Think twice before you act