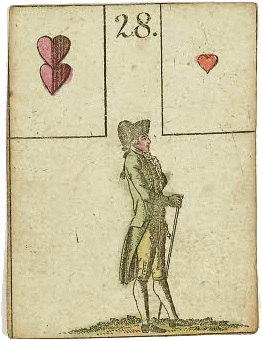 The first card describes the starting position.
1. Theme:
Your card: Letter
Call. E-mail. Superficiality. Alternative: News. Rebound. A blockage. Something is on its way. Stagnation. Frustration.
Love letter. Letter about friendship. Receiving a positive message. Non-binding. Waiting for very personal message. Be more thorough. E-mails. Answering bills and official correspondence. Finding the proverbial hair in the soup. Watch all messages closely today. Don't be too superficial. Focus more on concentration. Don't let yourself get distracted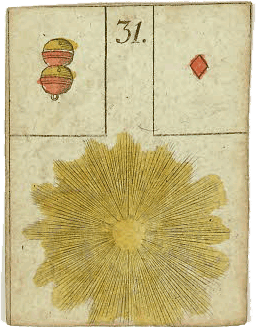 What to avoid and what's the wrong way? This tells the second card .
2. Wrong way:
Your card: Lily
Harmony. Family. Intimacy. Alternative: Peace. Consistency. Old age.
Mature. Experience. Sexual appetite. Keeping the peace. Sexual deviation. Someone who likes younger partners. Harmonic partnership. Don't take love for granted. Don't cause a stir. Clear the air. Be careful not to exaggerate. Letting something rest in peace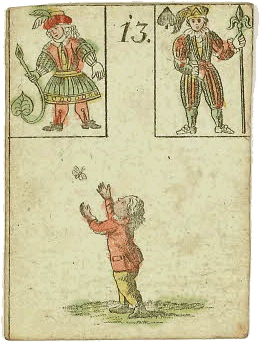 The third card shows the right direction. This is what you can do.
3. Right way:
Your card: Oriole
Move. Excitement. Restlessness. Nervousness. Alternative: Doubts. Ambiguity. Clairvoyance.
Exciting times. An old married couple. Problems understanding each other. Flighty. Superficial. Stay in partnership for diplomatic reasons. Mood swings. A series of short meetings or notifications. Communication. Make sure you are on the right way. Don't listen to gossip. Don't move too fast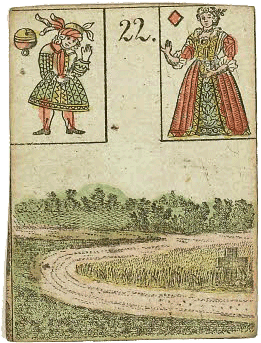 The fourth card shows a solution on how to get there.
4. Destination:
Your card: Mountain
Personal card. Block. Inhibitions. Frustration. Alternative: Big. Strong. Good-natured.
Desire to overcome obstacles to love and to find understanding. Longing for someone or something. Infatuation that prevents you from going ahead. Don't be stubborn. Look for another solution. Be diplomatic. Avoid quarrels. Finding another way. Expecting difficulties or loss. Disability. Accept a challenge. Rethink and search for alternatives. Be patient. Wait
Comments
Faye - 2021-09-09 07:03:42
Thank you, this is perfect better than real one prediction with a deck
monica - 2021-09-15 23:24:42
This reading helped me put my thoughts into actions. Bright blessings.
Cristy - 2021-10-30 03:04:07
Thank you for tihis website…. The answers are amazing and speak to my heart. ❤️
Krisi - 2022-05-02 21:30:53
Thanks s lot for prognoze....I know how difficult is to make desicion when you is not so strong like 2 jears sho..blessing!
MARIA - 2022-10-19 05:13:35
haha wow this is very impresive, and very accurate!! i love itttt
Marea - 2023-04-30 06:03:20
I always knew there is no love that God had in mind. And really these readings are a waste of time. Their is never anything about them that is helpful
None ya - 2023-05-19 18:06:28
I always knew that God has a plan that is Gods and you're not to access or interfere. What a sorry lot of folks looking to make folks into someone they are not they are interefering in Gods blessing. I do think some folks are blessed in the access of the records but Generally though they can't access mine and they also show their shortcomings their own. Anyways thank you Jesus it's truly a blessing to not remember your ways are best and it's your blessing to me.
Total 7 posts
* Required