About the 36 Lenormand cards
Each of the cards contains icons and a picture of the card from a normal deck with the French colors.
'
'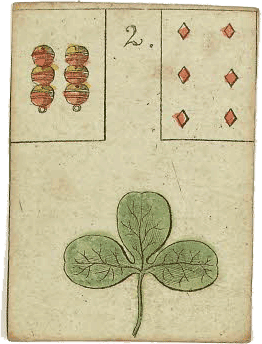 Rider
Meaning Good news
Personal card. Transportation. Good message. Something will be moved. New beginning. Bad cards will be softened, good cards strengthened. Alternative: Fulfilled desires. Success. Victory. A dream come true. Self-esteem. Nice surprise.
Relationships:
Someone new will come into your life. Old passion is rekindled. Alternative: Lack of engagement. Bad messages. Decisions instead of reactions. Sometimes arrogant.
Action:
You will receive a delivery or registered mail. Act quickly. Take your chance. Alternative: Love for details. Too many projects. You can't finish everything you have started. Don't move too fast.
Character:
Progressive
Rider in combination with ...
Clover: Notified of winning. Good news
Ship: To hit the road. Information about traveling. Letter from abroad
House: Successful apartment search. A visitor comes into your house. Apartment offer
Tree: News about health. Long-lasting satisfaction. Moving forward in life
Clouds: Bad news. Contradictory news
Snake: Receiving good news in a roundabout way. Message from a woman
Coffin: Healing. Good health-related news. Slow down. End to sorrow
Bouquet: Invitation. Happy message related to a woman. Gift. Daughter
Scythe: Good news. Sudden message. Sudden visitor or activity
Whip: Good output. Mediation. Controversial news
Oriole: Gossip. Uncertainty. A lot of messages. Good news which brings trouble
Child: Good message about a child. Message about a new beginning
Fox: Deception can be repaired. News you can trust. Scheming or plotting
Bear: Moving slowly. Contact with a man
Stars: Hope. Spiritual developement. Good news that lets you breathe
Stork: Message brings progress. Message about a change or move
Dog: Be patient - message will arrive. Undertaking with a friend. Message from a friend or brother
Tower: Thinking about separation. News from an authority. Freedom
Park: Good reputation. Enterprising environment. Message about an event. Meeting a lot of people
Mountain: Progress. Lost message
Way: Good decision. Good message about a decision. Different offers. Make the right choice
Mice: Everything negative disappears, so progress can be made. A message gets lost
Heart: Good love-related news. Go ahead easily. Flirt. New love. Spice up a partnership
Ring: Progress in relationship. Thinking about new relationship. Liberation from a captive situation. Proposal. New contract
Book: Delayed messages. Secret messages. Discoveries
Letter: Very good news. Documents. Phone call
Man: You will have a good time. You will get good news. Active man
Woman: You will have a good time. You will get good news. Active woman
Lily: Good family-related news. Familiar things
Sun: Message that makes you strong. Strength and energy. Positive thoughts. Good time
Moon: Mental healing. Message that something has been achieved. Thinking about oneself
Key: Guaranteed success. Message of security. Messages will definitely come
Fish: Money arrives. Financial progress. Important documents
Anchor: Promotion at work. Work-related messages. Job in which you are traveling. Soothing messages
Cross: Good news doesn't come. Fateful messages. Disturbing messages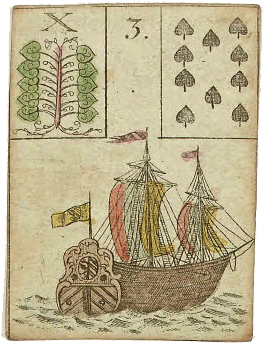 Clover
Meaning Little joys
Luck. Good job. No reason to worry. Opportune time. Alternative: Positive output when acting quickly. Loan. Investments. Some money. Shyness. Nervousness. Seclusion. Hinderance of growth.
Relationships:
Love is growing steadily and still young. Meeting by accident. Unexpected flirt or visitor. Happy moments with friends. Creativity and luck. Alternative: One-night stand. Rapidly falling in and out of love. Lack of creativity. A lucky streak comes to an end.
Action:
Realize your plan. A small recognition for your work. Putting one's ideas into practice. Alternative: Lack of creativity. Bad planning. To go unnoticed. Being passed over for a promotion.
Character:
Carefree
Clover in combination with ...
Rider: Glad tidings. Good message
Ship: Short trip. Lucky journey
House: Happy family. Luck in finding accommodation
Tree: Good progress in life. Healing
Clouds: Threat to happiness. Idleness. Postponement
Snake: Happy turn after long detours. A woman is lucky at cards
Coffin: Happy end. Good health-related news
Bouquet: Small celebration brings fun. Positive result. Luck
Scythe: Unexpected sudden luck. Sudden winnings
Whip: Discussions. Ready in a few days'
Oriole: Sorrow for a few days. Clouded happiness
Child: Little pleasures. Happy child. Good start. A bit of luck
Fox: Player. False joy. Fortune is fickle
Bear: Happy times caused by another man. Behave diplomatically soon
Stars: Clarity in a few days. Lots of luck
Stork: Positive changes in whatever is signified by the card to the right
Dog: Happy moments with friends. Good friendship
Tower: Separation shortly. Separation despite fun in the relationship. Luck with authorities
Park: Fun with lots of people
Mountain: Lack of luck. Fun becomes serious
Way: Decision comes soon. Lucky decision
Mice: No more luck. Gambling loss. Fortune passes suddenly
Heart: Lucky in love. Cheerful and happy relationship
Ring: Everything will be fine. Lucky in love. Relationship soon. Fun in relationship
Book: Discoveries. Studies begin or continue. Not time for fun just yet
Letter: Very good news. Lottery ticket. Message will arrive in a few days
Man: Man in luck. Optimism. Something represented by the card to the left of the clover will happen in five days
Woman: Woman in luck. Optimism. Something represented by the card to the left of the clover will happen in five days
Lily: Happy family. Sexual happiness
Sun: Joy and happiness will increase
Moon: Romance. Esteem. Take more time to think it over
Key: Moments of happiness bring safety
Fish: Positive emotions. Company growth. Luck with gambling. Luck in dealing with money
Anchor: Happy at work. Be at the right place. Good work done
Cross: Blessing. Happy ending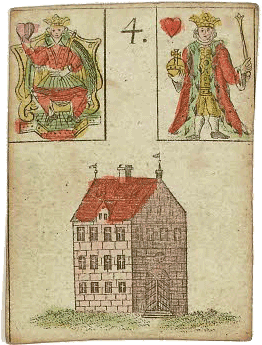 Ship
Meaning Longing
Trip. Distance. Circumstances change. Let events come to you. One longs for the card to which the ship is sailing. Alternative: Something moves forward. Exploitation. Theft. Fears and worries are exploited. Night.
Relationships:
Long-term relationship. Wait for the right one. Alternative: Leave someone or a loved one behind. Someone from another country, who is far away at the sea.
Action:
Starting a new business. Putting all one's eggs in one basket. Journeys - for fun or business. Alternative: Don't rush. Let things happen without intervention.
Character:
Enterprising
Ship in combination with ...
Rider: Progress. Very good message. Message is being sent
Clover: Happy journey. Gambling journey. Short travel
House: Longing for stable living conditions. Journey back home
Tree: Long-lasting yearning. Seasickness. Waiting for a journey
Clouds: Trip is cancelled. Uncertain journey. Unpleasantness
Snake: Longing for another woman. Turbulent holiday. Difficult journey. Travel with detours
Coffin: A journey does not take place. Falling ill on a trip. Shift in travel plans
Bouquet: Woman from far away. Happy journey. Visiting relatives who live far away
Scythe: Accident. Sudden departure. Unplanned trip
Whip: Longing for advice. Troubled journey. Active holidays. Dispute on a trip
Oriole: A journey that makes you worry
Child: Unfulfilled fertility. Short trip. Child leaves home
Fox: Wrong time for travelling. Reckon with fraud. Someone who works in a travel agency. Better to cancel the trip. Illusion
Bear: Longing for another man. Arduous journey
Stars: Desire for clarity. Dream destination. Promising trip
Stork: A journey brings changes. Change of residence. Trip leads to something represented by the card on the right. Emigration
Dog: Relaxed trip. Longing for friends. Travelling with friends
Tower: Travelling alone. Journey on behalf of the government. Travelling abroad. Desire for distance and solitude
Park: Travelling to an event. Trip with a lot of people
Mountain: Repressed longing. Trip with frustrating experience. A journey is delayed. Trip to the mountains
Way: Trip in six to eight weeks. Decision about a journey
Mice: Annoying travel. Journey is cancelled
Heart: Journey with a loved one. Honeymoon. Romantic weekend. Longing for love
Ring: Honeymoon. Marriage in a foreign country. Weekend relationship. Unfulfilled desires in a relationship
Book: Secret journey. Educational travel. Something is kept secret
Letter: The message is already sent. Information about a journey. Messages from far away
Man: Man or partner comes towards you. Distanced man. Man from far away
Woman: Woman or partner comes towards you. You are longing for something represented by the card to the right
Lily: Longing for sexual experiences. Family trip. Winter journey. Sexual adventure
Sun: Relaxing holiday. Summer journey
Moon: Journey through the night. A lot of unfulfilled desires
Key: Trip ends with something represented by the card to the right. Journey that never happens
Fish: Expensive journey. Money arrives. Fishing trip
Anchor: Business trip. Work is far away. Cruise. Work on a boat or in the travel industry
Cross: Longing is manageable. Pilgrimage. Leaving forever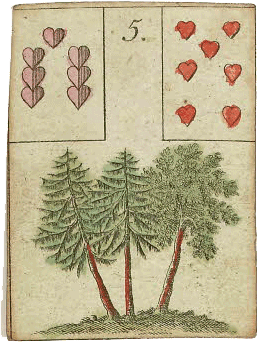 House
Meaning Home
Stability. House. Family. Authority. Alternative: Father figure. Husband. Man who is loved. Man who cares about the person for whom the cards are placed. Importance of this person.
Relationships:
Familiar. Warm. Calm and safe. Your own body. Alternative: Security. Long-term partnership.
Action:
A good time to forge future plans. Long-term security should be the goal. Alternative: Go for promotion. Don't build your foundation on sand.
Character:
Reliable
House in combination with ...
Rider: Good news about a house. Stud farm. Evaluation of health
Clover: Good choice of doctor. Luck at home. Good house-related choice
Ship: House far away. House abroad. Change of residence. A trip home. Seasickness
Tree: Long life in a house. House in the countryside. Healthy body
Clouds: House is in danger. Uncertainty regarding a house. House in the shadow. Problems at home. Uncertain health
Snake: Getting a house in an unusual way. Authoritarian mother dominates life. A woman who cares for you
Coffin: Empty house. Selling a house. Damage to the house. A family is falling apart. Retirement home
Bouquet: Luck is in your house. Lovingly-decorated house. Sickbed visit
Scythe: Sudden house offer. Separation. Excitement about a house. Physical pain
Whip: Dispute at home. Domestic violence. Dispute with neighbor. Sickness from strife
Oriole: Gossip factory. Problems at home. Excitement in the neighborhood. Physical restlessness
Child: Samll house. Short stature
Fox: Practical intelligence. Burglary. Be careful when buying a house. Dealing clever with your own body
Bear: Wealthy family. Authoritarian father dominates life. Stable health
Stars: Very happy family. This house belongs to you. Luck regarding location. Harmony of body and mind
Stork: Cottage. Move
Dog: Staying in a house for a long time. Stubborn tenants. Animal brings joy. Hospitable house
Tower: House abroad. Cancel rental agreement. Selling a house
Park: Hotel. Large company. Multifamily house. Hospital. House with garden. Healthy in nature
Mountain: Frustrating living. Retreat home. House in the mountains
Way: Having to decide about a house. Going back home. Try new health advice. Two residences
Mice: Stressful life at home. Vermin. Physical deficiency. Loss of a house
Heart: This flat is the right one for you. Loving family. Beautiful house. Loving yourself
Ring: Rental contract or contract about selling a house. Healthy relationship
Book: Secret about a family. Library. Stable living conditions have yet to come
Letter: House where you will soon be. Real estate contract. Sign documents for a house
Man: House owner. Reliable man. Stable man. Home-loving
Woman: House owner. Reliable woman. Stable woman. Home-loving
Lily: Harmonious and peaceful family. Old house owned by the family. Good figure
Sun: Gladly living at home. Excellent health
Moon: Thinking about a house or flat. Dream house.Monthly complaints
Key: olid building. Important house. SNew cure
Fish: Financial success due to self-employment. Expensive house. House close to the water. Financing a house
Anchor: Engagement for the family. Long-term certainty. Safe job. Home office. Workaholic
Cross: Church. Hospital. Dilapidated property. Protected health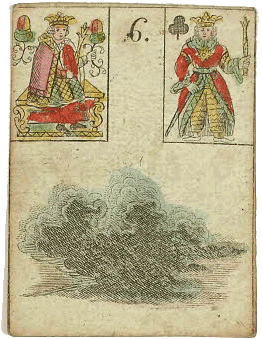 Tree
Meaning Health
Life. Roots. Calm. Alternative: Boredom. Rest and satisfaction. Reflection. Divine consciousness. Altar. Repeat.
Relationships:
Haste makes waste. A strong karmic relationship. Good health. Alternative: Gridlock. Stunting karmic themes. Little personal development. Bad health. Bad habits.
Action:
Your patience is needed. Prepare to go out of your way. Alternative: Avoid upsets. Be patient.
Character:
Stable
Tree in combination with ...
Rider: Good messages concerning health. Mobility into old age
Clover: Luck in life. Positive goals
Ship: Long-lasting yearning. Long and spiritual journey. Spring jaunts
House: Own house. Stable health. House in the countryside
Clouds: Restlessness. Uncertainty about a disease. Serious disease. Unstable health
Snake: Boring and sluggish woman. Liberation from constraints. Making things run smoothly
Coffin: Disease caused by psychological strain. Major illness
Bouquet: Best friend. Good health. Zest for life
Scythe: Miraculous healing. Operation
Whip: Pain. Move. Long-term illness. Therapy. Dispute about a never-ending theme
Oriole: Being angry about something for a long time. Health-related conversations. Worried about health. Internal fluctuations
Child: New beginning with respect to health. New beginning will be delayed
Fox: Living the wrong life. Long-term fraud
Bear: Stable relationship. Friendship with a man. Long life. Diet. Overweight. Eating disorder. Expensive disease
Stars: Deep emotions. Resolve a long-running dispute. Living in harmony with the spiritual world
Stork: Hint for change. Recovery
Dog: Friend for life. Soulmate
Tower: Hospital. Loneliness. Long lasting retreat
Park: Meeting boring people. Hospital. Stable social life
Mountain: Life with many obstacles. Fatigue. Disease associated with blockages. Slowly returning to health
Way: Long wait for a decision. Decision that is changing your life
Mice: Stress. Riddled with something. Low energy. Deterioration of health
Heart: Love of life. Healthy
Ring: Land purchase. Lifetime partnership
Book: Secret endures for a long time. Life mystery. Unrecognised health problem
Letter: Long-awaited message. Contact with someone from the past. Recipe. Laboratory results
Man: Boring and sluggish partner
Woman: Long-lasting state relating to the card on the left. Female life partner. Sick woman. Healer
Lily: Long-lasting harmonious phase. Strong connection with family. Age-related health problems
Sun: Long-lasting happy times. Good health. Lots of energy
Moon: Depression. Thoughts that persist
Key: Recovery. Determination to live
Fish: Always having enough money. Secure receipts. Something is blurred
Anchor: Right job for the rest of one's life. Stable job. Stable health. Officials
Cross: Boredom or stable state vanishes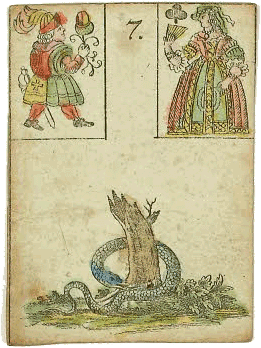 Clouds
Meaning Lack of clarity
Ambiguities. Difficulties. Lack of perspective. Confusion caused by medication or something else. Alternative: Dreams. Problems. Lack of independence. Getting things by cheating.
Relationships:
Looking at partnership from a different perspective. Short-term problems. Alternative: Fear of excessive demand. Confusion. Mourning. Depression.
Action:
Listen to the inner voice. Take difficulties seriously. Make a fresh start. Alternative: Avoiding great efforts. Don't take the emotional aspect out of consideration.
Character:
Changeable
Clouds in combination with ...
Rider: Improvement. Getting in the know. Confusing message
Clover: Disappointment. Luck comes back
Ship: More distance improves the situation. Uncertain journey. The worst is over
House: Living situation will improve. Confusion regarding a house. Unpleasant home
Tree: Unclear health problems. Slow recovery
Snake: Warning relating to the card to the right. Serious problem for a woman
Coffin: Slow but steady healing. Clarity. Middle ground
Bouquet: Pleasant outcomes. Uncertain luck. Situation becomes bearable
Scythe: Be alert to avoid danger
Whip: Unable to argue. Abuse. Harassment. Never-ending discussions
Oriole: Lies. Annoying call. Everything will be cleared up slowly
Child: Short-term improvement of a situation. Problems with children. Problems with a new beginning
Fox: Intrigue. Fraud will be cleared up slowly. Lies. Corruption
Bear: Fixed position. Conflicts with authorities. A deceptive man
Stars: Inscrutable situation
Stork: Changes are cumbersome. A man in transition
Dog: Tarnished judgment. Problems within friendship will be cleared up
Tower: Conflicts with authorities. Loneliness and isolation will vanish. You can be with others again
Park: Misunderstandings are eliminated. Unsafe society. Discomfort in the public
Mountain: Slowly able to act again. Hidden obstacles
Way: Decision will improve situation. Indecision. Caution
Mice: Doubts. Denying fear. Things get better quickly
Heart: Ambiguities in a relationship get cleared. Lovesickness. Love grows slowly
Ring: You will get over problems in relationship. Difficulties with a contract
Book: Reveal a secret slowly
Letter: Superficiality leads to closeness. Confusing messages. Illusion
Man: Cheater. Your situation improves
Woman: Female cheater. Untrustworthy woman. Your situation improves
Lily: Improvement of family situation. Improvement of sexual situation. An affair
Sun: Beeing happy again. Things will get better
Moon: Emotional state improves. Swinging moods. Restless sleep
Key: Standing on shaky ground. Delayed success. Helplessness
Fish: Financial situation will improve. Uncertainty about money
Anchor: Unclear objectives. Bad working atmosphere
Cross: Frightening experience in a few weeks. Despair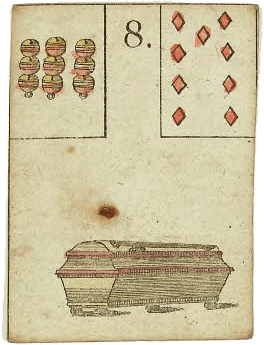 Snake
Meaning Detours
Personal card. Entanglements. Deceit. Intelligence. Seduction.. Alternative: An intelligent woman. Someone who likes activity. Good judgement. Happy to be included.
Relationships:
Someone who likes to seduce others. Someone who pursues their objectives. Alternative: Warning against female rival. Someone selfish. An enemy. Funded by a wise woman.
Action:
Keep a clear head. Do it prudently. Alternative: Think twice before you act.
Character:
Seduce
Snake in combination with ...
Rider: Good news from a woman. Reunion with a woman. Help
Clover: Short-term ambiguities. Good opportunity. Don't trust promises of profit
Ship: Journey in a roundabout way. Journey with a woman. Be careful on a trip
House: Coming home in a roundabout way. Difficulties at home
Tree: Long-lasting problems. Well-known woman. Some boredom
Clouds: Confusion. No solution. Negative influence. Evil woman
Coffin: Complications in recovery. End of something. Wise woman
Bouquet: Be alert for trouble. Two women. Happy woman. She plays her part
Scythe: Recovery. Suddenly a woman appaears
Whip: Problems for a woman. Contentious woman
Oriole: Sorrow caused by a woman. Slander
Child: Woman with child. Younger woman. Short detour
Fox: Skillful female liar. Female rivals
Bear: Find another man with detours. Act in concert
Stars: Supernatural woman. Complications can be clarified
Stork: Problems drag on. Detour. Be aware of changes
Dog: Intrigue among friends. Friendly woman with dog. Help. Friendship didn't last long
Tower: Lonely woman. Impending separation. Female executive
Park: Intrigue in social circle. Woman in public sector
Mountain: Long lasting difficulties. Blocking. Frustrated woman. Uptight woman
Way: Avoid offered alternatives. Running away. Hide. Difficulties finding the right way. Woman makes a decision
Mice: Riddled with fear. Bad planning. Unpleasant woman
Heart: Rival. Lover. Seduction
Ring: Contract in a roundabout way. Committed woman. Relationship with another woman. Be careful with contracts
Book: Secret lover. Woman hiding something. A woman you don't know yet
Letter: Difficult communication. Bad messages. News about a woman
Man: Intelligent. Objectively. Man with lover
Woman: Don't underestimate yourself. Woman with a female friend. Scammer. Liar
Lily: Peace-loving woman. Be careful with affairs. Sexual relationship with a woman
Sun: Woman with lots of positive energy. Problem can be solved, but at a high price. Happy times with a woman
Moon: Mental stress because of a woman. Illusion
Key: Difficulties are inevitable. Be aware of problems
Fish: Financially secure woman. Woman receives money. Be careful with financial transactions. Be aware of alcohol
Anchor: Intrigue in the workplace. A woman asserts herself. Be alert
Cross: Wealthy woman. Contact with a woman decreases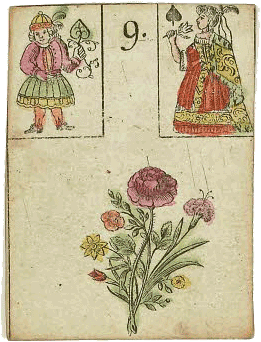 Coffin
Meaning End
Disease. Farewell. Letting go. Standing still. Alternative: Finances grow. Profit. Someone has to rely on you to succeed. An official comes into play. Spiritual growth caused by suffering.
Relationships:
Natural end of a relationship. A new relationship is waiting. Alternative: Protect yourself from bad energy. Quit current matters.
Action:
Draw conclusions. Need a break. Hospital visit. Alternative: It is a good time to bring something to an end.
Character:
Clear
Coffin in combination with ...
Rider: Healing. Rebirth. Good examination results
Clover: Short illness. Second chance. Short-term sorrows
Ship: Research the real causes of a disease. Move, emigration
House: Hereditary disease. Move. Healing
Tree: Weak health. Frailty
Clouds: Long-lasting healing. Mental illness. Be aware of infectious disease
Snake: Disease causes complications. Worried because of a woman
Bouquet: Unpleasant visitor. Recovery. Funeral. Cancelled visit
Scythe: Sudden disease. Accident. Victims
Whip: Violence. Destruction. Mute. Sick through thoughtlessness
Oriole: Irritability. Something moves forward
Child: Child destroys something. Ill child. Healing goes ahead
Fox: Fraud with serious consequences. End of lies. Healing on its own
Bear: No self-confidence. Financial things change. Bad mother. Weakness
Stars: Insomnia. Clouded perception
Stork: Release. Disease will disappear. Change for the worse
Dog: A friend needs help. Something is wrong with a friendship. Long lasting sorrows
Tower: Captivity. Hidden disease. Lonely and sick
Park: Cure. Cancelled event. Hospital
Mountain: Time-out. Isolation. Displaced grief
Way: Go into a new direction. Choose alternative methods. Think about decision
Mice: Slow Recovery. End of worry
Heart: Lovesickness. Love as healing
Ring: New beginning. Completion. Trust your doctor. Chronic disease
Book: A secret will be revealed. Alternative healing methods
Letter: Medical result. Diagnosis
Man: You get a rough ride. Sick man
Woman: You get a rough ride. Sick woman
Lily: Stable health. No sex life. Hormonal disorders
Sun: Mediumship. Energy loss. Healing
Moon: Depression. Sadness
Key: Predictable end. Being bogged down. Things will improve
Fish: Alcohol abuse. Addiction. Running out of money
Anchor: Survive a disease well. End of security. Nostalgia. Difficulties at work
Cross: Difficulties decrease. Disease passes. At the end you will be successful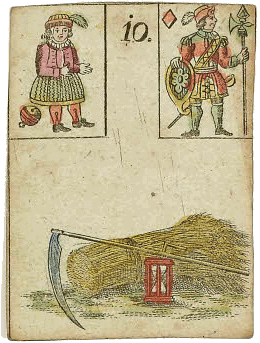 Bouquet
Meaning Visit
Personal card. Joy. Gift. Invitation. Hope. Satisfaction. Creativity and diversity. Alternative: Courtesy. Harmony. Engagement.
Relationships:
Sociable woman. Happy moments spent with laughter and good hope. Alternative: Exuberance can sometimes frighten others.
Action:
Turn on your charm. Small touches that go down well. Funded by help. Alternative: Don't let them provoke you. Remain polite.
Character:
Charming
Bouquet in combination with ...
Rider: Gift. Happy message. Invitation
Clover: Gift. Complete pleasure. Pleasing invitation. Much luck
Ship: Happy holiday. Journey
House: Happy family life. Beautiful house. Celebration
Tree: Best friends. Good health. Nature. Spontaneous joy
Clouds: Threatening visitor. Daydreaming. Idleness. A woman is afraid
Snake: Creative woman. Jealousy. Complicated meeting
Coffin: Cancelled meeting. Unpleasant assembly. Nurse
Scythe: Sudden and pleasant surprise. Surprising visit. Good medical consultation
Whip: Small talk. Dispute with a woman. Pleasant conversation
Oriole: Woman causes sorrow. Unpleasant incidents at celebration. Funny conversations
Child: Naive woman. Great child. Gift for a child
Fox: Work that revolves around fashion or beauty. Sincerity. Honest friend. False friendliness
Bear: Befriended couple. Woman close to a man
Stars: Visitor brings clarity. Hopes and dreams. Spiritual knowledge
Stork: Creative hobby. Positive change. Change arises at a party
Dog: Friends around whom you feel comfortable. Good friend. Good company
Tower: A woman withdraws. Separation from woman. Alternative medicine
Park: Garden. Nature. Public event. Social event
Mountain: Outside. Hike. Visit brings frustrating experiences
Way: Wander through nature. Possibilities. Woman-related decision
Mice: Losing good temper. Luck is short. You can't stop something
Heart: Falling in love. Engagement. Looking forward to a visitor. Romantic relationship with another woman
Ring: Close relationship with another woman. Proposal. Good contract
Book: Pleasing mystery. Secret meeting. Blind date
Letter: Message from a woman. Invitation. Happy messages
Man: Main character is close to another woman. Charming man
Woman: Pretty woman. You will make a visit
Lily: Family celebration. Sexual relationship with a woman. Satisfaction
Sun: Welcome development. Happiness and strength related to a woman
Moon: Terrible state of nerves. Spiritual growth
Key: Big success. Visit brings certainty
Fish: Expensive gift or invitation. Female alcoholic
Anchor: Nice colleagues. Pleasant working environment. Achieving goals
Cross: Predestined luck. Expected visitor doesn't come. Charity. Luck has a price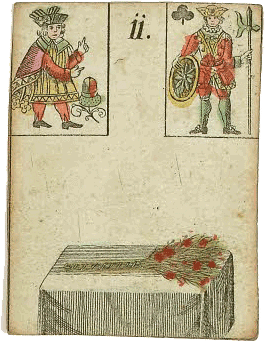 Scythe
Meaning Warning
Risk. Unexpected development. Acute condition. Something sudden and surprising. Alternative: Where the scythe is pointing is the danger. Restless and full of nervous energy. Immature and impetuous.
Relationships:
The sudden end of something. Look you at the surrounding cards to see which topic is concerned. Alternative: You will reap what you sow. Surprising love.
Action:
Don't hesitate to use your weapons. Don't make far-reaching decisions. Alternative: Be extra careful. Change of job. Watch out that you don't hurt yourself.
Character:
Nervous
Scythe in combination with ...
Rider: Aggressive message. A cut, so something new can occur. Something seems to be good only at first glance
Clover: Dissolute behavior. Pleasure seeking. Sudden luck
Ship: Longing is a burden. A journey is cancelled. Dangerous trip
House: Danger for a house. Notice of withdrawal
Tree: Sudden blow. Danger for health. Operation. Danger to life
Clouds: Serious danger caused by something related to the card on the left. Indecision
Snake: Aggressive intelligent woman. Attack. Surgeon. Be very careful with something signified by the card on the right
Coffin: Dismissal. Final end. Serious disease
Bouquet: Joyful fright. Aggressive woman. Dangerous woman. Gift with ulterior motives
Whip: Verbal attack. Aggressive dispute. Martial arts. Sudden advice
Oriole: Dispute. Serious sorrows
Child: Abortion. Danger for a child
Fox: Hazardous intrigue. Beware of fraud
Bear: Risky passion. Surgery for weight loss. Aggressive man. Don't trust everybody who acts nice
Stars: Be careful at night. Act to realize dreams. Black magic
Stork: Something begins to change itself. Leave things as they are. Quick change. Avoid changes
Dog: Danger for a friend. Aggressive friend. End of a friendship. Pet surgery. Endangered friendship. Biting dog
Tower: Unwanted solitude. Courtroom. Sudden collapse
Park: Gardening. Bad company. Criminal environment. Dangerous company
Mountain: Dangerous obstacle, stay away. Slow process
Way: Separation. Fast decision. Think twice about decisions. Decision under pressure
Mice: Big loss. Danger passes. End of worry. Emotional or physical collapse
Heart: Jealousy. Heartache. Heart surgery. Lovesickness
Ring: Relationship ends. Contract ends. Aggression within relationship
Book: Secrets with dangerous consequences. A secret is revealed. Withheld information leads to damage
Letter: Take message seriously. Announcement. Dangerous message. Attack caused by a letter
Man: Aggressive man. Decision of a strong man. Leader
Woman: Aggressive woman. Decision of a strong woman. Nervousness and short temper
Lily: Sexual adventure through flattery. Sexual aggression
Sun: Explosion. Electricity. Overestimated forces
Moon: Fluctuating emotions. Embark in a dangerous direction
Key: Sudden certainty. To have a false sense of security. Fate
Fish: Financial danger. Decision affects money. Loss of money. Risky business. Drug addiction
Anchor: Danger at work. Risky job
Cross: Heavy task at hand. Overcome danger. Sudden pain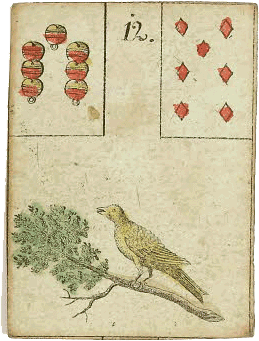 Whip
Meaning Conversation
Dispute. Communication. Discussion. Conflicts. Conversation. Alternative: Person who likes sports. Danger caused by reckless behavior. Likes working with everything.
Relationships:
Makes fast contact. Steaming sexual encounters. S & M roleplay. Rough jests. Alternative: Self-punishment. Degrading acts. Love dispute. Problems within relationship.
Action:
Enter into venture negotiations. Take up space. Take things as they come. Overcome setbacks. Alternative: Litigation. Self-punishment. Hurting oneself. Dispute with colleagues. Intervention and policy.
Character:
Valiant
Whip in combination with ...
Rider: Constructive debate. Feedback
Clover: Dispute for a couple of days
Ship: Dispute that comes from outside. Desire for debate
House: Inheritance disputes. Domestic violence. Family dispute. Dispute leads to clarity
Tree: Long-lasting dispute. Lengthy negotiation
Clouds: Bad dispute. Confusing dispute
Snake: Eloquence. Dispute about a woman. Danger
Coffin: Destruction. Battle results in separation. Speechlessness
Bouquet: Visit brings trouble. Discussions with a woman
Scythe: Accident. Sudden unexpected argument. Injurious conversation
Oriole: Chatterbox. Discussions about nothing. A lot of conversations. Rush
Child: Petty dispute. Restless new beginning. Childish conversation
Fox: Dispute about lies. Athlete. Conflict at work
Bear: Discussion or dispute with a man. Trusting a council
Stars: Clarifying conversation. Call for spirits
Stork: Conversation quickly brings change. Disruptive change. Dispute with consequences
Dog: Dispute with a friend. Gentle strokes. Consultant
Tower: Exit interview. Court dispute. Trouble with authorities. Unilateral conversation
Park: A lot of people are involved in a dispute. Public communication. Public dispute
Mountain: Race against the wall. Discussions that lead nowhere. Communication is blocked
Way: Uncertainty about which way you should go. A lot of potential decisions. Forced decision
Mice: Get on quickly. Exhaustion
Heart: Follow your heart. Passionate love. Conflicts in love. The quarrel of lovers is the renewal of love
Ring: Discussion about relationship. Never-ending disputes
Book: Off the record. Conflict about a secret
Letter: Aggressive message
Man: Valiant. Opinionated man. Open man
Woman: Valiant. Open and sociable woman. Good consultant
Lily: Dispute about sexual experience. Dispute brings current peace to an end
Sun: Charisma. Skittishness. Discussions full of energy
Moon: Hurting someone with words. Psychotherapy
Key: Discussion clarifies situation. Unavoidable confrontation
Fish: Finance related advice. Emotional engagement. Arguments about money
Anchor: Dispute at work. Job-related negotiations
Cross: A consultant as to the manner born. Disputes decrease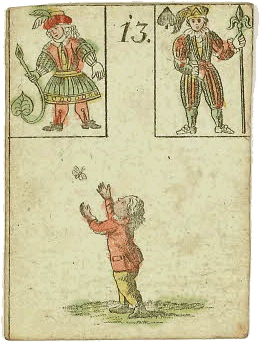 Oriole
Meaning Hustle and bustle
Move. Excitement. Restlessness. Nervousness. Alternative: Doubts. Ambiguity. Clairvoyance.
Relationships:
Exciting times. An old married couple. Problems understanding each other. Flighty. Alternative: Superficial. Stay in partnership for diplomatic reasons. Mood swings.
Action:
A series of short meetings or notifications. Communication. Alternative: Make sure you are on the right way. Don't listen to gossip. Don't move too fast.
Character:
Hectic
Oriole in combination with ...
Rider: Unnecessary worries. A lot of messages. Discussions
Clover: Successful call. Productive talks. Worries go by quickly
Ship: Phone calls regarding a journey. A journey that is marked by movements
House: Gossip factory. Talking about a house. Roommate. Trouble with neighbors
Tree: Being angry for a long time. Worried about existence
Clouds: Overwhelming worries. Large doubt. Decreasing gossip
Snake: Sorrow because of a woman. Gossip. Things are going from bad to worse
Coffin: Sick from sorrow. Break the silence
Bouquet: Exciting party. Funny appointment. Grief because of a hectic woman
Scythe: Doubts suddenly vanish. Break
Whip: Stressful conversation. Disagreement
Child: Sorrow about a child. Brothers and sisters. Excitement for every little thing
Fox: Message turns out to be a lie. Job-related calls / conversations. Avoid excitement
Bear: Provocative man. Roleplaying game
Stars: Subliminal irritation. Promising call
Stork: Talks lead to changes
Dog: Sorrows about a friend. Conversation with friends
Tower: Discussions about right and wrong
Park: Public nuisance. Seminars. Feeling uncomfortable in society
Mountain: Can't solve problems. Get no answer
Way: Call with respect to a decision. Make a decision out of sorrow
Mice: Being completely annoyed. Less conversation. Stress and anxiety pass by
Heart: Talks about love. Lovesickness. Turbulent love life
Ring: Excitement because of a contract. Several contracts
Book: Unexpressed anger. Teacher. Unforeseen trouble
Letter: Annoying messages. A lot of confusing messages
Man: Seller. Talkative man. Main character has sorrow
Woman: Getting into a mess
Lily: Worries because of sexual experiences. Long discussions. Dubious relationships
Sun: Everything is going to be all right. Great call
Moon: Deep sorrow. Difficult times
Key: Trouble with insurance. Unavoidable doubt
Fish: Short-lived money. Worried about money
Anchor: Job-related sorrow. Stressful job
Cross: Worries go by. Time is a great healer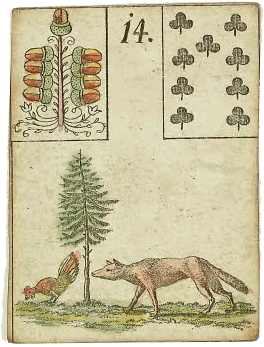 Child
Meaning New beginning
Personal card. Child. Curiosity. Innocence. Free and unburdened. Small. Alternative: One's own child up to puberty. Youth. Growth.
Relationships:
Childhood. Open to new friends. Dependent. New love. Natural state. Alternative: Immaturity. Bad planning. Love has to grow. Apprenticeship. Purity.
Action:
Let your inner child out. Start from the beginning. Alternative: It's a good time for a new start. Forget about everything. Let yourself be guided by reason.
Character:
Innocent
Child in combination with ...
Rider: Good message about a new beginning. Good news about child
Clover: Good new beginning. Lucky child. Good childhood. Four children
Ship: Unfulfilled desire for children. Getaway. New journey. Longing for new start
House: Kindergarten. Childcare. New house. Little house
Tree: Start everything over from the beginning. Fertility
Clouds: Desire for children. Difficult childhood. Uncertain new beginning
Snake: Younger woman. Problem caused by a child. Woman with a child
Coffin: Nothing serious. Miscarriage. Abortion. Sick child. Waiting for a new beginning
Bouquet: Naive woman. Daughter. Visit from a child. Charming child. Gift for a child
Scythe: Abortion operation. Sick child. Sudden new start
Whip: Deception. Bothersome new beginning. Dispute about little things. Childish conversation
Oriole: Stress over trifles. Brothers and sisters. A group of small children
Fox: Young boy. Little white lies. Clever child
Bear: Childlike trust. Physically strong child. Naive man
Stars: Naive thoughts. Child star. Good new beginning. Purity
Stork: Pregnancy. One more change. New start leads to something represented by the card to the right
Dog: Little patience. Young dog. Friends from childhood
Tower: Only child. School. Childcare. Educational authority. Living separately from the child
Park: Small community. Children's playground. Kindergarten
Mountain: Bothering child. Disabled child
Way: Naive decision. Short trips. Brothers and sisters. New decision. New way. Child-related decision
Mice: Child leaves home. Small losses. Short delay
Heart: Naturalness. Benevolence. New love. A younger rival
Ring: Adoption. New relationship. Beginning of a relationship. Naivety with contracts
Book: School. Child with secret. Little secret
Letter: Carefree fresh start. Birth announcement. Unimportant message. SMS or Chat. Triviality
Man: Naive and young man. New beginning for a man. Guileless main character
Woman: Naive main character. Immature. Delicate woman
Lily: Little family. Looking older than one is. Sexual naivety
Sun: New beginning with power and energy. Happy child
Moon: Desire to have children. Sensitive child
Key: Self-confident child. Important restart. Child brings security
Fish: Poverty. Small gift. Small amount of money. Little emotions
Anchor: Temporary work. Working with children. Secure new beginning. Child-related business
Cross: Listening to the inner child. Unhappy child. Difficult childhood. Lose contact with a child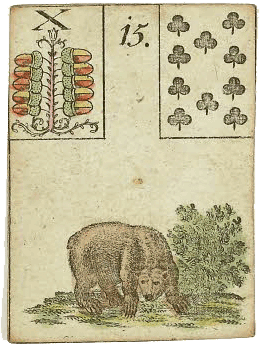 Fox
Meaning Cunning
Personal card. Fraud, lies, dishonesty. Falseness, self-deception, or negative attitude. The wrong time for something. Alternative: New responsibilities at work. Fate points you in the right direction. Distance.
Relationships:
Do what needs to be done to provide for your family. Open your eyes. Intrigue. Alternative: Deception. Lack of trust or respect. Don't be made a fool.
Action:
Hard work. Being smart and cunning. Be alert. Nobody's fool. Alternative: Illegal activities to get by. Stop gossip. Go the way of truth.
Character:
Smart
Fox in combination with ...
Rider: Good messages are lies. Message that looks good, but only at first glance
Clover: False joy
Ship: Stay close to each other. Problem with a journey. Stay at home
House: Fraudulent family member. Wrong place to live. Living in the wrong body
Tree: Workers in health service. Misdiagnosis. Precautionary health care
Clouds: Falseness. Serious fraud
Snake: Lying woman. Danger
Coffin: Wrong diagnosis. No education
Bouquet: False name. Gossip. Gift with strings attached
Scythe: Unexpected fraud. Work accident
Whip: Problem caused by dishonesty. Dispute and arguments are the wrong way. Avoid discussions
Oriole: Libel and slander. Dishonest conversation. Excitement because of fraud. Pointless upset
Child: Little white lies. Clever child. Lying child
Bear: Clever in dealing with money. Finding deception where you might not expect it. Nice man who lies
Stars: Wrong time. Wrong attitude. Negative vibes
Stork: Changes triggered by intrigue. Fraud gets exposed. Avoid changes
Dog: False friendship. Dishonest friend. Wrong animal
Tower: Prison. Old secrets. Conflicts with officials. Don't give up
Park: Wrong society. Hypocrisy. Public fraud. Lots of people are involved in fraud
Mountain: Problem because of lies. Blowing up problems
Way: Clever decision. Think carefully about decisions. Wrong time. Wrong direction
Mice: The bubble pops. Confession
Heart: Manipulation. Love-related betrayal. Dishonesty in love matters. Wrong partner
Ring: Wrong or lying partner. Manipulation in relationship. Spurious ring
Book: Fraud is kept secret. Creativity. Conspiracy
Letter: Manipulation. False information
Man: Untrustworthy. Smart man. Liars. Intrigue
Woman: Untrustworthy. Smart woman. Impostor. Intrigue
Lily: Wrong behavior in sexual matters. Lying to the family
Sun: Faked joy. Imaginary force
Moon: Emotional dishonesty. Thoughts go in the wrong direction. Delusions
Key: Intrigue. Insurance fraud
Fish: Financial fraud. Clever in dealing with money. Wrong dealing with money
Anchor: Intrigue. Long-lasting dishonesty. Mobbing
Cross: Big mistake. Lies are a burden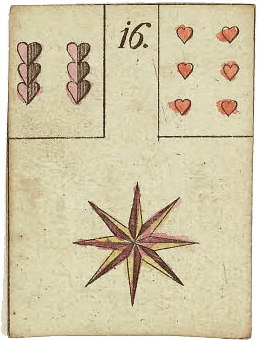 Bear
Meaning Strong personality
Personal card. Boss. Stubbornness. Older or official person. Strength. Power. Possession. Alternative: Luck. Progress in work. Find an agreement.
Relationships:
A father figure. A protector. A sober person. Alternative: Presumptuous. Intimidating. Rival. Ex-husband.
Action:
A coach. Trust someone. Body-builder. Be assertive. Alternative: Trust yourself. Avoid people who envy your luck. Aggressive. Mobbing.
Character:
Intimidating
Bear in combination with ...
Rider: A man comes up to you. Good message about money. Solution to all problems. Strength in youth
Clover: Growth. Short stability. Enjoying wealth
Ship: Longing for another man. Expensive journey
House: Stable house. Security. Nice man in stable conditions
Tree: Long life. Stability
Clouds: Inscrutable man. Battered self-esteem. Financial uncertainty. Sensitive man
Snake: Boss and a woman. Nice man who is already bound
Coffin: Elderly sick person. Financial losses. Weakened self-esteem
Bouquet: Prosperity. Man who is close to a woman
Scythe: Man comes out of nowhere. Money is scarce. Closed account
Whip: Mighty man. Lawyer
Oriole: Trouble with an important man. Talking with boss or mother. Money negotiations
Child: Naive man. Strong child. Fatherly
Fox: Nice and honest man. Lies about money. Dishonest boss. Loss caused by fraud
Stars: Explanatory talk with a man. Happy times. Clarification and correction of fears and weaknesses
Stork: Financial changes. Changes caused by a man. New boss
Dog: Much patience. Friendly boss. Stable friendship
Tower: Important authority. Court. Bank. Separation from a good friend
Park: Patron of a large company
Mountain: Stubborn. Boss who makes life difficult
Way: Willingness to compromise. Boss makes a decision. Decisive man
Mice: Stability is eaten away. Financial losses. Losing an important friend
Heart: Strong heart. Warm man. Passionate love. Love to eat. Love with a boss
Ring: Reliable contractors. Relationship with a mighty person. Trustful relationship
Book: Unknown man. Financial secret. To be discreet in person. Meeting a man who you don't know yet
Letter: Message from a nice man. Sharing. Check your mail
Man: Strong man. Overweight man. Friend of husband. Strong personality
Woman: Mother. Main character gets in contact with a man. Strong personality
Lily: Family head. Man who desires sexual relationship. Financial advice
Sun: Long-lasting, happy period of life. Prosperity. Assertiveness
Moon: Daydreaming of another man. Leading person in media
Key: Nice man who brings security. Security through possession
Fish: Rich and nice man. A lot of money. Security official
Anchor: Hard-working man. Friendly long-term boss. Need to control
Cross: Contact with a man decreases. Donate. High dignitaries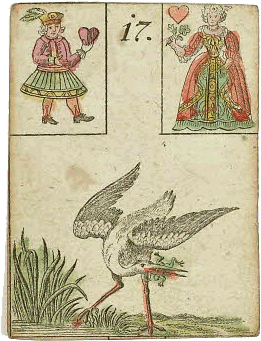 Star
Meaning Clarity
Inspiration. Spirituality. Knowledge. Great happiness. Alternative: Attraction. A karmic relationship. A brother or friend. Love story.
Relationships:
Dreaming of someone or longing for someone. Fulfilled love. Alternative: Someone under a lucky star. Unrealistic expectation. Addiction.
Action:
Listen to your inner voice and you will be successful. Recognition. Camping or hiking in the wild. Don't lose touch with reality. Avoiding stress and getting enough sleep. Alternative: Don't daydream too much. Take care. Take advantage of this lucky period and achieve good results. Change things if you can.
Character:
Spiritual
Star in combination with ...
Rider: A good message. Dreams come true. Message gives clarity
Clover: Listen to one's inner voice. Cheerfulness
Ship: Spiritual journey. Astral travel
House: Haunted house. Dream home. Middle voice
Tree: Long-lasting, happy period in life. Spiritual life
Clouds: Losing overview. Confusion. Frog
Snake: Central woman. The inscrutable clarifies itself
Coffin: Sleeplessness. End. Hypersensitivity
Bouquet: Celebrity. Sensitive and charming woman. Herbalist. Big luck
Scythe: Sudden clarity. Fast action. Scales will fall from your eyes
Whip: Resolving dispute positively and without injury. Talent for dowsing
Oriole: Inner turmoil. Conference. Network
Child: Be honest with a child. Talking about desire for a child. Familiar spirit
Fox: Clever idea. Genius
Bear: Lucky beggar. Explanatory discussion with a man
Stork: Change brings clarity. Change of mind. Change things if you can
Dog: Deep friendship. Soulmates
Tower: High goals. Success with authorities
Park: Theater. Success within public
Mountain: Someone or something blocks clarity. Blocked dreams
Way: Great decision. Decide on a gut level
Mice: Disappointment. Fallacy
Heart: The luck of love. Finding the love of one's life
Ring: Spiritual relationship. Fulfilling relationship
Book: Spiritual knowledge. Be in the dark. Fortune teller. Ambiguities
Letter: Clear communication. Recommendations. Good news. Get redeeming message
Man: Realistic, clear main character. Intelligent and hard to deceive
Woman: Main character will find clarity soon. Supernatural
Lily: Honest and clear relationship. Good sexual conformity
Sun: Finding inner strength. Honor. Fulfilment
Moon: Deep contentment. Coming to terms with yourself
Key: Enlightenment. Self-esteem. Success
Fish: Clairvoyance. A lot of money. Soulmate. Clear feelings
Anchor: Hall of fame. Artistic occupation. Professional self-realization
Cross: Fulfilled karma. Spiritual ideas. Total knowledge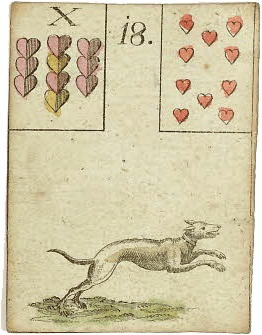 Stork
Meaning Change
Journey. Move. Changing jobs. Flexibility. Alternative: Turning back. Mother figure. Transformation.
Relationships:
This card represents constant change. Look at the surrounding cards to find out to what is changing or affected by change. Alternative: Start changes. Change by or through partnership.
Action:
You should think about a reversal. Change your life. Alternative: Take action to start something new. Don't move in the wrong direction.
Character:
Flexible
Stork in combination with ...
Rider: News about changes. Change brings progress. A new man brings changes in your life
Clover: Successful changes come within the next few days
Ship: Longing for change. Change of residence. Changes relating to a journey
House: Move. Instable body
Tree: Improved health. Long-lasting changes. Change will come in about one year
Clouds: Lack of concentration. Threatening change. Uncertain change
Snake: Change is delayed. Change in a roundabout way. Changes for a woman
Coffin: Rejection. No change. End in sight
Bouquet: To get to know a new woman. Improvements. Visitor brings changes
Scythe: Unexpected change. Painful change. Sudden change
Whip: Disputes. Restless change. Prison or court
Oriole: Difficult change. Changes with two possibilities
Child: New start leads to change. Pregnancy. Changes for a child. Short-term change
Fox: Keep the status quo. Positive change through cunning. Avoid whatever is represented by the card to the left
Bear: Change brings stability. New boss. Change for the better
Stars: The card to the left will bring clarity. Positive change
Dog: Changing attitudes toward loyalty. New friends
Tower: Multiple separations. End of loneliness. Changes are limited
Park: Change of environment. Changes in society. Change is public
Mountain: At the moment, no changes are possible. Development falters. Slow progress
Way: Go different ways. Change directions. Change brings a decision
Mice: No changes at all. Discouragement. Unpleasant change. Sticking to what you're used to
Heart: A relationship changes for the better. Change for which you have been hoping. Things that are close to your heart will change
Ring: Love match. Promise. Contract changes. The card to the left will lead to a stable relationship
Book: Change caused by insight. A secret is revealed. Unexpected change
Letter: Superficial changes. News about changes
Man: Moody. Torn inside. Man expecting changes. Flexible
Woman: Moody. Torn inside. Changes for a woman. Woman expecting changes
Lily: Mature man leads to a change. Short affair. Changes in family
Sun: Actively change something. Positive change brings energy. Will to act
Moon: Emotional changes. Emotional satisfaction
Key: Life-altering event. Change will definitely occur. Change gives security. Important change
Fish: The card to the left is important for getting more money. Financial changes
Anchor: Restructuring at work. Long-term results. Change by release. Changes at work
Cross: No changes at all. End to sorrow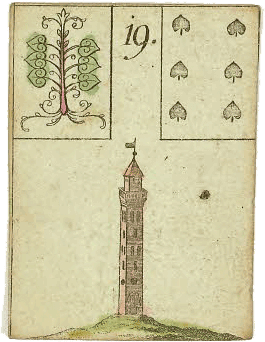 Dog
Meaning Friendship
Personal card. Loyalty. Binding. Hold tight. Trust. Help. Benevolence. Alternative: Building lasting foundations. Ground yourself. Return to nature.
Relationships:
A very good and loyal friend. Someone whom you know well and trust. Alternative: Patiently waiting for something. Don't doubt the loyalty of a certain person.
Action:
Someone who represents your interests, for example: doctors, financial advisors or book holders. View the surrounding cards to get more information. Don't cancel treatment. Alternative: Attempting to hurt someone. People you can rely on blindly.
Character:
Friendly
Dog in combination with ...
Rider: Someone you know will visit you. New friendship
Clover: Fun and happiness with friends. Helpful friend. Friend in luck
Ship: Longing for friendship. Companion on a journey
House: Hospitality. Good neighborhood. Pet. Doghouse. Friend of the family
Tree: Friendship for life. Nurse. Doctor
Clouds: A friend is threatened. Illoyality. Unsafe friendship
Snake: Good female friend. A woman and a dog. Friendship in a roundabout way
Coffin: A friend is unwell. End of a friendship. Something is wrong with a friendship
Bouquet: Friendly people. Good friendship with a woman
Scythe: End of a friendship. Friend is in need
Whip: Helpful brother or friend. Dog trainer. Benevolent advice. Friendly dispute
Oriole: Talkative friend. Conversations. A friendship brings sorrow. Socializing
Child: School friends. Child with a dog. New dog. New friendship. Younger brother
Fox: Hunter. Bad friend. Honest and sincere friend
Bear: Mighty friend. Elder friend. Benevolence and softness
Stars: Deep friendship. Confusion among friends is eliminated. Famous friend
Stork: Changing Circle. Patience leads to change
Tower: Withdrawal from friends. Lonely friend. Friend in the government
Park: Meeting with a friend at an event. Networking. Friendship is in focus. Big social circle
Mountain: Distance between friends. Disappointment caused by a friend
Way: Definitely foreign behavior. A friend is facing a decision
Mice: Loss of friends. Annoying friendship. Impatience
Heart: Loyalty in love. Loving friend. Friendship turns to love
Ring: Devotion. Familial bond. Friendly contract
Book: New friends. A friend has a secret. Introvert
Letter: Superficial friendships. Email / Letter from a friend
Man: Companion. Affectionate. Loyal man
Woman: Trustworthy woman. Loyal woman. Friendly relationship with a man
Lily: Sexually-motivated friendship. Harmonic friendship
Sun: Strong friendship. Warm friendship
Moon: Deep conversations among friends. Creative friend
Key: A friend upon whom you can rely completely. Important friend
Fish: Financially successful friend. Social circle where money plays a role
Anchor: Long-lasting friendship. Stable friendship. Good colleagues
Cross: A friend helps in difficult times. Difficult friendship. Losing a friend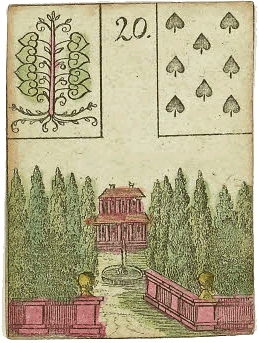 Tower
Meaning Separation
Authority or office. Loneliness or isolation. As personal card: person in a leading position. Alternative: Release. Clean up to free up space. Out with the old, in with the new. Divorce.
Relationships:
Active looking for love. Search for relationship. Can't go ahead. Alternative: Loneliness and solitude. It won't be an easy task.
Action:
Corporations. Government agencies. Offices. Organizations. Independence. Planning. Alternative: Setting limits. You won't get help. Be careful with your health. Don't isolate yourself.
Character:
Planning ahead
Tower in combination with ...
Rider: Freedom. Government news. Thinking about separation
Clover: Luck at school. Separation is a stroke of luck. Opportunity from an authority
Ship: Traveling abroad. Business travel. Longing for solitude
House: Cottage in a quiet location. Big house. Real estate abroad
Tree: Long life. Boredom causes separation. Meditation center. Life as a hermit
Clouds: Separation with serious consequences. Feeling abandoned. Prison
Snake: Separation in a roundabout way. Independent woman
Coffin: Hospital. Cemetery. End of solitude
Bouquet: Divorce from a woman. Student party. Separate from others
Scythe: Sudden separation. Dangerous solo
Whip: Discussion with father. Fitness center. Court dispute
Oriole: House of representatives. Parliament. Separation from sorrows. Unwanted loneliness
Child: Temporary separation. Adoption agency. New beginning. Turning old into new
Fox: Don't give up. Fraud in the government
Bear: Money institution. Divorce from a man. Secure money
Stars: Retreat to find yourself. Pioneering experience
Stork: Change of government. Changing yourself. Retreat
Dog: Withdrawal from friends. Protect a friend. Giving up a friendship
Park: Stay alone in a group of people. Public building. Hotel
Mountain: Stubbornness. Roadblock. Loneliness. Insurmountable obstacle
Way: Egoistic decision. Lonely way. Lonely decision
Mice: Maddening selfishness. Corporate loss. Separation is undone
Heart: Unattainable love. Insensitivity. Lonely relationship. Lonley heart
Ring: Treaty. End of relationship
Book: A secret is kept in the family. Teacher. Professor. Separation is not up for discussion
Letter: Alert from an authority. Short-term separation. Message about separation
Man: Big man. Government employee. Main character is just divorced. Egotistic main character
Woman: Egotistic main character. Lonely woman. Woman has separation ahead
Lily: Retreat from sexual activity. Put an end to an affair
Sun: Liberating separation. Energy boost. Climax
Moon: Isolation. Creative company
Key: Separation to gain security. Success in a lawsuit. Strong protection
Fish: Person in leadership position. Bank. Trade center
Anchor: Job center. Long-lasting protection. Working on your own
Cross: Slow reconciliation after separation. Church. Temple
Park
Meaning Public
Audience. Customers to meet. Official occasion. Something becomes visible. Alternative: Health occupations. Quiet. Sunday. Theater. Big event.
Relationships:
Friends. Relatives. Family events. Alternative: Listen to opinions of others. Don't keep quiet.
Action:
Networking. Join online communities. Publicize your concerns. Alternative: Strong public encouragement. Be mindful of others. It's not always necessary to use force to succeed.
Character:
Sociable
Park in combination with ...
Rider: Get to know someone new. Meet larger groups
Clover: Good reputation. Fun party
Ship: Party on a ship. Travel group. Cruise. Longing for more people
House: Public building. Welcome someone. Party at home. Hotel
Tree: Recreation area. Hospital. Public life
Clouds: Harmful management. Public disturbances. Unclear circumstances
Snake: Private conflicts become public. Disorder
Coffin: Hospital. Destruction
Bouquet: Big and happy event. Social / public event. Gardening show
Scythe: Criminal environment. Sudden visitors
Whip: Theatre. Public dispute
Oriole: Excited pack. Concert. Public meeting. Public nuisance
Child: Naive circle of acquaintances. Playground. Kindergarten
Fox: Sincere society. Wrong company
Bear: Supplier. Best circles of friends. A man you already know
Stars: Take drastic action. Supporters. Straighten things out
Stork: Change in demand. Public changes. Event is moved
Dog: Big circle of friends. Popular friend. Fan community
Tower: Hotel. Public building. Feeling lonely in society
Mountain: Problems in public. Frustrating social circle. Boring event. Cancelled event
Way: Walking in the park. Publications. Political decision
Mice: Loss of circle of acquaintances. Avoid society. Disturbing event. Cancelled event
Heart: An integrated whole. Engagement party. Be attracted by a group
Ring: Commitment. Public approval. Marriage
Book: Treat matters with secrecy. Secrets kept in relationships. School. Library
Letter: Announcement. Entrance ticket. Invitation to an event. Superficial environment
Man: Open-minded and sociable. Popular man. Turning one's back on society
Woman: Cheerful woman. Woman in the public. Main character loves society and contact with people
Lily: Harmonic mood within circle of acquaintances. Strip bar
Sun: Fame. Recognition in the public
Moon: Considerate approach to someone. Celebrity event
Key: Important meeting that will happen for sure. Environment gives security
Fish: Financial institution. Public money. Getting rich through many customers
Anchor: Teamwork. Stability. Public relations
Cross: Withdrawal from people. Burial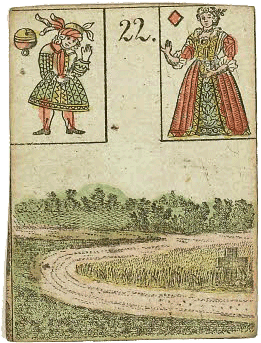 Mountain
Meaning Obstacle
Personal card. Block. Inhibitions. Frustration. Alternative: Big. Strong. Good-natured.
Relationships:
Desire to overcome obstacles to love and to find understanding. Longing for someone or something. Alternative: Infatuation that prevents you from going ahead. Don't be stubborn. Look for another solution. Be diplomatic. Avoid quarrels.
Action:
Finding another way. Expecting difficulties or loss. Disability. Accept a challenge. Alternative: Rethink and search for alternatives. Be patient. Wait.
Character:
Stubborn
Mountain in combination with ...
Rider: Someone finally shows up. Messages arrive late. Good side goes unnoticed
Clover: In the end everything will be fine. Things move forward. Keep trying
Ship: Journey starts after a delay. Delays. Unfulfilled desires
House: House in the mountains. Foreclosure. Loneliness
Tree: Used to difficulties. Long-lasting problems
Clouds: Frustrating experience. Obscure obstacle. Hesitation. Confusion
Snake: Woman is late. Larger problem. Frustration caused by a woman
Coffin: Barriers come down. Suffering in silence
Bouquet: Block is easily dissolved. Relief. Unpleasant situation
Scythe: Obstacle is quickly removed
Whip: Serious dispute. Impatience. Avoiding someone
Oriole: Reconnect with yourself. Long-awaited call. Don't know in what direction you should go
Child: Childlessness. Small block. Problem with a new beginning
Fox: Misjudged obstacle. Lack of opportunities for advancement. Imaginary obstacle
Bear: Shy man. Mountain climber. Money is slow in coming
Stars: Forgetfulness. Dreams are blocked. Success stagnates
Stork: No changes. Multiple obstacles. Frustrating change
Dog: Disappointment caused by a friend. Loneliness. Abandoned dog. Bad experience with a supposed close friend
Tower: Deadlock. Legal restrictions. Unapproachable person
Park: Blocked in public. Boring event. Delayed meetings
Way: Blocked decision. Decision made under pressure
Mice: Obstacle will soon be gone. Conflict arises
Heart: Lonelyness. Cold-hearted. Heart complaints
Ring: No binding capacity. Alone in relationship. Frustrating relationship
Book: Something is successfully kept secret. Slow progress
Letter: Blocked message. No answer
Man: Egotistic and dominant main character. Man with blockages. Unloving
Woman: Main character is blocking herself. Cold woman
Lily: Family problems. No sex life. Sexual inhibition
Sun: Long-awaited success. Enough energy to overcome the obstacle
Moon: Blocked emotions. Immunity
Key: Overcoming obstacles. Assertiveness is needed
Fish: Money arrives late. Financial obstacles. Fishing. Closed account. Difficulties to show feelings
Anchor: Blockage in workplace. Long-lasting blockades
Cross: Burden. Blockage dissolves. Overcome inhibitions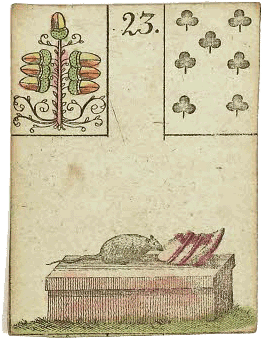 Way
Meaning Decisions
A decision is pending. Choice. More options. Tolerance. Alternative: Make a decision. A mature woman. Possibilities. Influenced through money.
Relationships:
Willingness to compromise. Don't listen to what other people say. New possibilities. Two paths cross. Alternative: Leave something behind you. Change of heart. Love is at a turning point.
Action:
Make decisions. Look for alternatives. Remain true to yourself. Alternative: Don't wait any longer. Don't remain at the wheel. Trust your decision.
Character:
Open
Way in combination with ...
Rider: Several messages. You are on the right path. Message that brings a decision
Clover: Happy decision. Path to luck. Decision will be made shortly
Ship: Others call for a decision. Multiple possibilities on a journey
House: Family-related decision. Two houses
Tree: Long wait for a decision. Decision regarding health questions
Clouds: Unsafe decision. Unclear choices. Difficulties to decide for something or someone
Snake: Decision about a woman. Difficult decisions. Decision doesn't come naturally to you. Detours
Coffin: Wrong decision. Difficult to decide. Negative result. End of the road. Postpone decision
Bouquet: Decision about a woman. Nature walk. Positive result
Scythe: Sudden decision. Accident. Painful decision
Whip: Multiple decisions. Decision in dispute. Discussion about goals. Decisive council
Oriole: A lot of decisions. A lot of discussions. A difficult decision. There isn't just one way of doing it
Child: Following new avenues. Twins. Decision about a child. Brothers and sisters
Fox: Wrong decision. Be on the right path. Wrong way
Bear: Confidence in a decision. Decision about a man. Decision affects money
Stars: Decision brings clear conditions. Positive result. Executives
Stork: Indecision. Progress. Move. Several possibilities
Dog: Decision in favor of a friend. Decision concerning a friend
Tower: Ways out of isolation. Court decision. Decision about separation
Park: Several parties. Decision within public sphere. Public voting. Decision that depends on many factors
Mountain: Blocked decision. No results. A decision is not possible yet
Mice: Nobody else can make this decision for you. Exhaustion. Effort. Alternatives get lost
Heart: Uncertainty. Two partners. Love-related decision is coming up
Ring: Binding decision. Multiple offers. Relationship-related decision
Book: Crucial document. There is no decision yet. Discovery
Letter: Crucial document. A message is on its way. Message brings the expected decision
Man: Recommended or advisable man. Hesitant man. Main character takes the easiest path
Woman: Main character has to make a decision. Indecisive woman. Main character is leaving
Lily: Family related decision. Sexual decision
Sun: Volition. Great success. The right choice. Sunny way
Moon: Pondering about a decision. Emotional decision. Ways to gain recognition
Key: Making a safe decision. Important decision. Be positive about a decision
Fish: Decision on a gut level. Several incomes
Anchor: Restructuring in the workplace. Career choice. Work-related decision. Trust
Cross: Stand at a crossroads. Fate. No turning back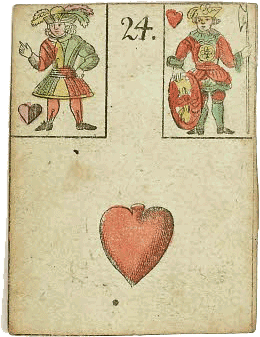 Mice
Meaning Loss
Something gnaws at conscience. Theft. Slow decrease. Defeat. Failure. Alternative: Hard work. A dispute. Spiritual / occult learning. Studies. Hope will not be realized.
Relationships:
You are running out of time. Loss of sorrows. Promises are not met. Alternative: Loss of relationships. Be careful. Pay attention to small signs. Happiness is threatened.
Action:
Solve your problem systematically. Act quickly. Remain alert. Alternative: Take more time to be compassionate. Nervousness. Stay true.
Character:
Systemic
Mice in combination with ...
Rider: Good news is not received. Worrying about someone's arrival. Disturbing messages
Clover: Luck decrease. Bad time
Ship: Transport problem. A journey is cancelled. Delayed trip
House: Necessary repairs to the house. Pests. Drop-out
Tree: Unhealthy behaviour. Illness due to stress. Bad timing
Clouds: Major illness. Ambiguity. Release anxiety
Snake: Difficulties successfully bypassed. Theft having to do with a woman. A woman is rejected. Difficulties coping with something
Coffin: End of worry. Fast recovery
Bouquet: Visitor doesn't come. Tension
Scythe: Separation. Sudden loss. Danger is overlooked
Whip: End of dispute. Loss of challenges. Conflicts should be avoided
Oriole: Secretiveness. Problems are displaced. Stressful calls. Fright
Child: Unwanted child. Unpleasant new beginning
Fox: Confession. Job loss. Fraud is uncovered
Bear: Powerlessness. Loss of strength
Stars: Debate does not take place. Pressure to achieve certain objectives
Stork: Clinging to old habits. Unintentional change
Dog: Decreasing friendship. Strenuous friendship. Rejection of a friend. Impatience
Tower: Conflicts with the law. Separation is not the goal
Park: Beware of pickpockets. Boring event
Mountain: Abandonment. Frustration is released. Overcome inhibitions. Conflict resolution
Way: Less alternatives. Unsafe choice. Indecisiveness
Heart: Unhappiness in love. Emotional stress. Love has grown cold
Ring: Relationship is undesired. Unreliable consultation. Contract is dissolved
Book: Failed exam. Worries about the unknown. A secret is revealed
Letter: Lost message. Contact is unwanted
Man: Sick man. Worried man. Depressive man. Lack of self-love. Main character has doubts
Woman: Lack of self-love. Main character has doubts. Exhausted woman. Changed woman
Lily: Rejection of a sexual offer. End of an affair. Denial of sexual needs
Sun: No succes at the moment. Withdrawal is the wrong decision. Lack of energy
Moon: Superficial behavior. Impulses. Cold
Key: Unreliability. Risk. Nothing happens by itself
Fish: Depression. Financial losses. Money isn't important
Anchor: Unemployment. Imminent termination
Cross: Getting over something. Grief. Loss isn't important anymore. Anxiety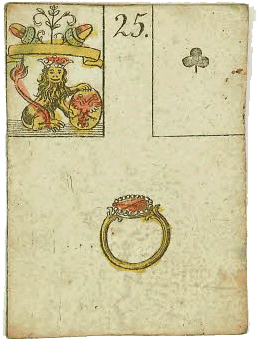 Heart
Meaning Love
Warmth. Luck. Partnership. Intimate emotions. Put your whole heart into it. Alternative: Helpfulness. Lover. Someone is expected. Unmarried or immature.
Relationships:
Everything happens according to your wishes. Someone who is loved and appreciated. Alternative: An affair. Sexual suggestions. The one you love will empower you. Vulnerability.
Action:
Give your heart away. Track your route. Alternative: Rely on the people you love.
Character:
Lovingly
Heart in combination with ...
Rider: Declaration of love. Passionate message. New encounters. Young man in love
Clover: Loving atmosphere for the next few days. Lucky in love
Ship: Love will find you. Honeymoon. Romantic trip. Long-distance relationship. Longing for love
House: Right apartment. Loving family. Trustworthy love
Tree: Long lasting love. Karmic connection. Love of your life
Clouds: Love is a risk. Uncertain love
Snake: Affair. Love with detours. Seduction. Jealousy
Coffin: Much suffering. Love grows stagnant. End of love
Bouquet: Warm invitation. Flirt. Rendezvous
Scythe: Sudden love. Separation. Decisions about love life. Passionate love
Whip: Passion. Dispute in love matters. Sex
Oriole: Lovesickness. Pair. Pounding of heart
Child: New love. New beginning in preexisting partnership
Fox: Forlorn hope. Fraud in romantic matters. Dishonest relationship. Taking advantage of someone
Bear: Envy. Protective partner. Passionate love. Overbearing partner. Jealousy. Warm man. Possessive love
Stars: Person of your dreams. Deep love. Fulfilled love
Stork: Falling in love again. Changes caused by love. Several affairs. Change of heart. Developing relationship
Dog: Warm affection. Very best friends. Love turns to friendship. Soulmate. Friend of the family
Tower: Lovesickness caused by withdrawal of the partner. Lonely love life
Park: Wedding. Several partners. Public display of love. Meeting the great love at a party
Mountain: Lack of commitment in love. Cold heart. Difficulty showing love. Frustration in matters of love
Way: Passionate decision. Love-related decision. Turning point in love
Mice: Separation. Distressed love. Heartlessness
Ring: Cordial connection. Marriage. Great contract
Book: Covert affair. Secret love. True love will come later
Letter: Warm message. Love-letter. Message, having to do with love
Man: Man falling in love. Generous man. Married man
Woman: Falling in love. Loving woman. Friendly. Gently. Married woman
Lily: Mature love. Love and paasion come together. Harmonic love
Sun: Warmth. Happy love. Being over the moon
Moon: Beautiful evening. Deep love. Uncertainty in matters of love
Key: Reliable partner. Safe, secure love
Fish: Love for money. Love caused by material things. Love of money
Anchor: Professional help. Love is rooted in the soil. Long-standing relationship
Cross: Heartache. Karmic love. Blessed love. Painful love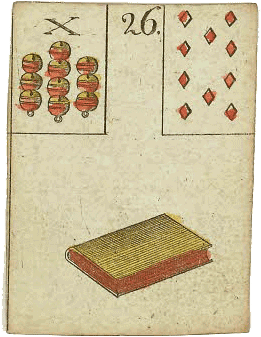 Ring
Meaning Cycle
Connection. Partnership. Marriage. Contracts. Agreements. Someone or something moves in circles. Cyclic. Representation. Alternative: Liabilities. Steadiness. Duty. Security. Repetition.
Relationships:
Stabilize your connections. A strong bond between two people. Alternative: Staying together out of obligation for the sake of love. Establish a basis before you go on.
Action:
Inspire others with your ideas. Make connections. Don't gamble with something. Alternative: If a cycle is not interrupted, it can continue forever. Change the pattern and an event will occur.
Character:
Reliable
Ring in combination with ...
Rider: Progress in relationship. New business or romantic partner. Thinking about relationship. Marriage proposal
Clover: Upward spiral of luck. Lucky in love. Relationship will come soon
Ship: Contract about the purchase of a boat. Longing for partnership. Grief and excitement in relationship
House: Homeland. House purchase. Rental contract. Extraordinary liability
Tree: Persistent agreement. Lifelong bond. A relationship develops
Clouds: Suspicious contract. Severe crisis
Snake: Difficult contract. Contract with a woman. Relationship with a woman other than one's partner. Interrupted relationship. Contract through diplomacy
Coffin: Contract is terminated. End of relationship. Lovesickness. Contract abroad
Bouquet: Growing relationship. Happy agreement. Engagement
Scythe: Contract is terminated suddenly. Divorce. Sudden relationship
Whip: Changes in partnership. Troubled relationship
Oriole: Grief and excitement in relationship. Several partners
Child: Close relationship to a child. New relationship. New contract
Fox: Dishonest agreement. False contract. False connection
Bear: Long-standing friendship / relationship. Financial agreement
Stars: Fulfilled connection. Deep emotional connection. Relationship goals
Stork: Multiple relationships. Several contracts. Changes in a relationship. Contract changes
Dog: Loyalty in love. Lifelong relationship
Tower: Divorce. Contract is cancelled. Contract abroad
Park: Marriage. Public approval
Mountain: Distance in relationship. Connection is limited. Problem with a contract
Way: Shared journey. Separation. Several contracts
Mice: End of a relationship. Contract agreement breaks
Heart: Loving relationship. Marriage. Labor union
Book: Secret society. Secret relationship. Vow
Letter: Love-letter. Written agreement. Superficial relationship. News about a contract
Man: Main character is bound. Husband. Fiance. Partner. Married man
Woman: Fiancee. Main character will have a serious relationship or contract. Married woman
Lily: Harmonic family. Sexual relationship. Affair with another man
Sun: Good partnership. Deriving strength from a relationship. Beneficial connection
Moon: Strong attraction. Emotional connection
Key: A contract is signed. Marriage you can rely on to 100%. Overcoming uncertainty in relationship
Fish: Solid relationship. Relationship with a rich man or woman
Anchor: Concatenation. Very strong long-term agreement. Interdependence. Cann't let go
Cross: Painful relationship. Contract is terminated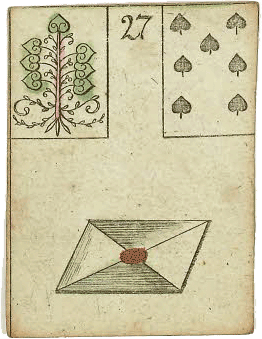 Book
Meaning Knowledge
Secret. Secrecy. The unknown. Education. Alternative: The unconscious. Secret knowledge. Transcendence.
Relationships:
Be discreet. Run away with someone. Keep something quiet. Alternative: Hide an affair. Fraud. Something is not official yet.
Action:
Safety check. Something good to know. Beware of someone having influence. Wait a little longer. Alternative: Share your knowledge. Get to know the hidden sides of your partner. Fool the public. Beware of fraud.
Character:
Mystic
Book in combination with ...
Rider: Unexpected visitor. Message reveals a secret. Good messages are delayed
Clover: Unexpected breakthrough. It's not the right time to have fun yet
Ship: Entrusting a secret to someone. Secret journey. International studies
House: Mysterious house. Unfamiliar house
Tree: Gardener. Medical studies. Keeping a lifelong secret
Clouds: Better to talk about secrets. Confusing information
Snake: A woman you don't know yet. Misinformation. Lies. Wisdom. Mysterious woman
Coffin: A secret is revealed. Studies come to an end. Unknown disease
Bouquet: Successful studies. Surprise. Woman with a secret
Scythe: A secret is revealed. Learning suddenly that something was concealed. Unexpected knowledge
Whip: Discussion about a secret. Exam. Something hard to hide
Oriole: Keeping a secret weighs on one's mind. Foreign languages
Child: Concealed child. Small secrets. A new beginning isn't under consideration
Fox: Useful information. Fraud is kept secret. Wrong documents
Bear: A man you don't know yet. Business studies
Stars: Astrology. Cartomancy
Stork: Study exchange. Changes are taking place in secret
Dog: A Brother is holding something. Dog trainer. Friend with a secret. Mysterious friendship
Tower: Separation is not up for debate. Study of law. Political science. Professor
Park: Writing workshop. Published book. Readings by an author. Hiding friends from other friends
Mountain: Studies delayed. Geological studies. Difficulties getting information. Secrecy leads to frustration
Way: Decision about studies. No decision has yet been made
Mice: Learning a secret. Failed examinations
Heart: Love grows dark. Secret admirer. Love has to keep secret
Ring: Secret contract. Secret society
Letter: Private correspondence. Secret message. Secret comes to light
Man: Man is protecting his reputation. Intelligent man. Shy man
Woman: Cautious. Educated woman. Woman with a secret
Lily: A secret that will be revealed. Secret affair. Unknown man
Sun: It may take time to get strength back. Successful studies. High intelligence
Moon: Creative writers. Successful book. Psychologist. Psychiatrist
Key: Successfully keeping a secret. A secret is revealed
Fish: Hidden money. Unexpected money. Secret reserves
Anchor: Secrecy at your workplace. Long-term studies. Obligation to secrecy
Cross: Study of Religion. Destiny is to be a writer. Secret is a burden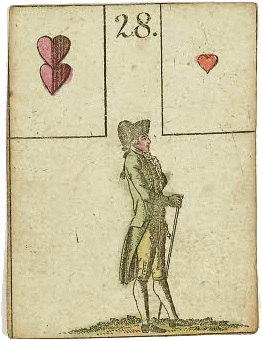 Letter
Meaning Message
Call. E-mail. Superficiality. Alternative: News. Rebound. A blockage. Something is on its way. Stagnation. Frustration.
Relationships:
Love letter. Letter about friendship. Receiving a positive message. Alternative: Non-binding. Waiting for very personal message.
Action:
Be more thorough. E-mails. Answering bills and official correspondence. Finding the proverbial hair in the soup. Alternative: Watch all messages closely today. Don't be too superficial. Focus more on concentration. Don't let yourself get distracted.
Character:
Communicative
Letter in combination with ...
Rider: Good information. Message that makes you happy
Clover: Lottery ticket. Message shortly. Very good message
Ship: Waiting for a message. Letter from abroad
House: Messages about a house. House where you don't stay long
Tree: Recipe. Sick leave
Clouds: Uncertain outcome. Scary message. Confusing information. Annulment
Snake: Message leads to difficulties. Bad news. Hoax. Messages about a woman
Coffin: Shredding or otherwise getting rid of documents. Good health-related message
Bouquet: Message from a woman. Gift. Good news. Invitation
Scythe: Message brings quick decision. Sudden contact. Legal proceedings. No message
Whip: Message leads to dispute. Two messages. Gossip
Oriole: Multiple messages. Annoying messagess. Message brings sorrow
Child: SMS or chat. Short letter. Message about a child
Fox: Untrusted message. Honest message. Letter at work
Bear: Message from lawyer. Official letter. Message from a nice man
Stars: Positive message. E-mail. Letter brings clarity
Stork: One learns something that changes everything. Update about something
Dog: Superficial friendship. News about a friend. Pen pal. Friendly communication
Tower: Letter from an authority. Legal document
Park: Invitation for a big event. Announcement
Mountain: Retained information. Delayed message. No message. No contact. Message stops something
Way: Message about a decision. Several messages. Decision will be overturned
Mice: Stressful message. No message
Heart: Internet dating. Loving conversations. Love letter
Ring: Regular contact. Marriage contract. Contract documents
Book: Man learns a secret. Notebooks. Documents. Contracts
Man: Superficial main character. Talkative person. Curious person
Woman: Main character gets a message. Message about a woman. Curious main character
Lily: Invitation for sexual adventure. Loose family ties
Sun: Ray of hope. Great news. Succesful contact
Moon: Love letter. Good news. Something gets on the nerves
Key: Message will definitely arrive. Redemptive message brings security. A letter arrives. Important message
Fish: Money transfer in the mail. Short-term revenues
Anchor: Employment contract. Working papers. Work-related message
Cross: Fateful message. Painful message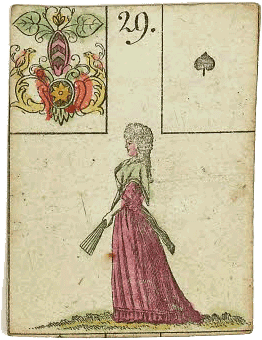 Man
Meaning Yourself
Questioner himself, or King of Hearts / husband / partner when the person seeking advice is a woman. If there is a husband and a lover, then this card represents the lover. In this case husband / boyfriend would be the Bear. Alternative: House. Seat of the soul.
Relationships:
Well developed male characteristics and traits. If you are a woman: Listen more to your partner's opinion. Show him that he is important. Alternative: Competing with partners. Happiness in love is questioned.
Action:
Use your fighting skills. Go to the foreground. Make decisions. Alternative: Don't pressure your partner if they are weak. Don't listen to what others say. Winning recognition.
Character:
Male
Man in combination with ...
Rider: Alert man. Woman or man comes towards you. Active man
Clover: Having luck at the crucial moment. Man seizes an opportunity. Lucky man. Cheerful
Ship: Main character is longing for something or someone. Waiting
House: Landlord. Family man. Estate agent
Tree: Needing medicine. Partner for life. Sick man
Clouds: Scared. Quick to change. Confused
Snake: Seductive man. Getting in contact with a woman. Dishonest man. Man with two women
Coffin: Depressive person. Sick man. In the near future something will go wrong
Bouquet: Flirting. Luck. This man is not yours alone. Charming. Attractive
Scythe: Warning. Aggressive man. To be threatened. Decisiveness. Quick to anger
Whip: Man who gets into trouble. Sexuality. Physical abuse
Oriole: Main character gets into a mess. Talkative man
Child: Main character has new beginning. Immature. Acting like a teenager. Man with a child
Fox: Honest and discreet. Smart. Sly
Bear: Strength. Powerful, rich, and benevolent man. Protection. A man and his father or grandfather
Stars: Daydreamer. Clairvoyant. Main character will gain brief clarity
Stork: Man causes change. Flexible man. Main character has a change ahead of them
Dog: Loyal man. A man you already know. Friends and comrades
Tower: Lonely man. Officials. Main character has a divorce ahead of them
Park: Outgoing. Socially committed man. Extroverted man
Mountain: Main character is dominant. Loner. Closed-off man
Way: Resolute. Man contemplating a decision. A man is going his own way
Mice: Bankruptcy. Losing yourself. Giving up interests
Heart: Romance. Loving man. Enamored man
Ring: Married man. Committed. Promised to each other
Book: Man you don't know. Introvert. Main character hides their personality. Mysterious. Intelligent
Letter: Journalist. Superficial but outgoing man. Message from a man. Weak connection
Woman: The two main characters are very close to each other. Connections. A couple
Lily: Mature man. Attractive man. Patient. Powerful aura
Sun: Optimistic. Man with strong attraction. Main character will have a blissful experience
Moon: Soul mate. Sensitive man. Creative
Key: Main character feels safe. Reliable. Successful. Security through a man
Fish: Prosperity. Businessman. Man who loves money. Calculating
Anchor: Man becomes dependent. Reliable. Stable. Hardworking man
Cross: Burdened. Religious. Sorrows passing by. Fate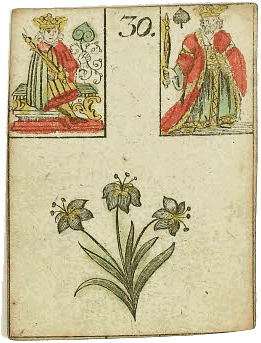 Woman
Meaning Yourself
Yourself, or Queen of Hearts / wife / partner when the person seeking advice is male. If there is a wife and a lover, then this card represents the lover. In this case wife / girlfriend would be the Snake. Alternative: End of a cycle. New beginning by transformation.
Relationships:
Well-developed female characteristics. Alternative: Illuminate sources of tension. Happiness in love is questioned.
Action:
Your own needs should take priority. Make your own decisions. Alternative: Win recognition. If you are a man: Listen more to your partner's opinion. Show her how important she is.
Character:
Female
Woman in combination with ...
Rider: Moving forward. Woman will receive good message. Woman or man comes towards you. Woman meets young man
Clover: Woman, cheerful and humorous. Woman seizes an opportunity. Bright woman
Ship: Woman on a journey. Woman is longing for something or someone. Waiting
House: Stability. Estate agent. Housewife
Tree: Woman working in medical field. Main person prone to inertia. Spiritual woman. Quiet and stable woman
Clouds: Unstable. Confused. Anxious woman
Snake: Seductive woman. Annoying woman. Wise
Coffin: Religious woman. Sick woman
Bouquet: Attractive. Loving friend. Charismatic
Scythe: Quick-acting. Aggressive woman. Someone has a shocking past. Resolute woman
Whip: Opinionated. Unteachable. Hostile or aggressive
Oriole: Nervous and anxious woman. Two women. Talkative. Open-minded
Child: Immature. Woman with child. Naive woman
Fox: Business-minded. Honest. Sly. Foxy
Bear: Woman and her father or grandfather. Get in contact with another man. Protective. Encroaching. Powerful, rich, and benevolent woman
Stars: Dreamer. Supernatural. Clarity. Sensitive
Stork: Woman brings changes. Flexible. Woman experiences change
Dog: Friendly woman. Woman with a friend. Woman you already know. Loyal woman. Friendly relationship with a man
Tower: Lonely woman. Main character has a past involving separation. Woman isolates herself
Park: Outgoing. Extroverted woman. Socially committed woman. A woman in the focus of public
Mountain: Stubborn woman. Closed-off and hard woman
Way: Resolute woman. Woman avoids a decision. Woman makes a decision
Mice: Broken, dishonest interests. Woman dissatisfied with herself. Nervous
Heart: Newly in love. Romance. Enamored woman
Ring: Married. Recurrent. Feeling trapped
Book: Educated. Mysterious. Keeping a secret. Hiding true personality. Introvert
Letter: Journalist. Message from a woman. Superficial but sociable
Man: Main characters don't have much to say to each other yet
Lily: Flirt. Woman with sexual interests. Love, harmony, and peace
Sun: Optimistic. Strong attraction. A nice time
Moon: Emotional. Soulmate. Emotional woman
Key: Wealthy, reliable, and materialistic woman
Fish: Prosperity. Businesswoman. Sensitive woman
Anchor: Main character tends to depend on others, represented by the neighboring cards. Reliable. Stable
Cross: Sorrows will pass by. Religious. Burdened. An object has been met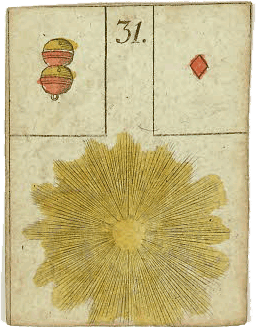 Lily
Meaning Sexuality
Harmony. Family. Intimacy. Alternative: Peace. Consistency. Old age.
Relationships:
Mature. Experience. Sexual appetite. Keeping the peace. Alternative: Sexual deviation. Someone who likes younger partners. Harmonic partnership. Don't take love for granted.
Action:
Don't cause a stir. Clear the air. Alternative: Be careful not to exaggerate. Letting something rest in peace.
Character:
Active
Lily in combination with ...
Rider: Sexually active young man. Good message from a lover. News bring peace
Clover: Sexual happiness. Good times. Good sex. Happy family
Ship: Relaxing trip. Longing for sex. Winter journey
House: Family-owned house. An old house
Tree: Long, harmonious life. Age-related health problems. Clairvoyance
Clouds: Unclear family relationships. Discontent. Uncertainty. Threat to family peace. Problem with the family
Snake: Spitefulness. Sexual partners. Sexual adventure with a woman
Coffin: Family-related problems. No sex life. Forgetfulness
Bouquet: Family celebration. Young woman. Sexual relationship with a woman
Scythe: Sudden peace offer. Unexpected end of harmony
Whip: Persistent dispute. Old conflicts. Dispute within family
Oriole: Long conversations. Sorrow caused by sexual experience. Two sexual relationships
Child: Grandfather and grandson. The oldest child. Naivety in sexual encounters
Fox: Little white lies to keep peace. Affair. Sneaking around
Bear: Head of the family. Man who wants a sexual relationship
Stars: Reward for life's work. Sexual relationship with deep emotional ties. Good sex. Spiritual teacher
Stork: Pregnancy. Changes take place. Changes within family
Dog: Lifetime friendship. Family friendship. Sexual contact with a friend
Tower: Separation from family. Government officials. Limited sex
Park: Family reunion. Brothel. Sex in public. Open minded
Mountain: Standstill. No sex life. No family life
Way: Family-related decision. Choice between options
Mice: Sexual abstinence. Sexually-transmitted disease. Leaving family behind. Bad sex
Heart: Loving family. Passionate love. Mature love
Ring: A man reaches an agreement. Late marriage. Harmonious relationship
Book: Educated and noble man. Secret affair. Unfamiliar man. Old books
Letter: Superficial sexual relationship. Old letters. Woman gets a message
Man: Main character is addicted to peace and harmony. Mature man. Mentor. Grandfather
Woman: Mother. Main character is expecting harmonious times. Grandmother
Sun: Blissful sexuality. Good sexual experience. Family brings strength
Moon: Harmonious feelings. Sexual encounter. Strenuous family
Key: Family brings certainty. Peace. Important man
Fish: Soulful sex. Old money. Emotional connections
Anchor: Peace and quiet. Things remain the same. Harmonious working atmosphere
Cross: Bad sex. Peaceful times will pass by. Karmic family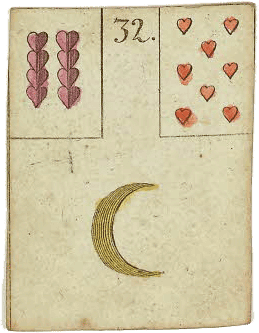 Sun
Meaning Energy
Health. Warmth. Creativity. Vitality. Alternative: Engagement ring. Endless wonders. Positive influence.
Relationships:
Someone can give a lot of love. Good care. Luck. Generosity. Alternative: Not being cared about enough. Lack of empathy. Dreams are fulfilled.
Action:
Caring for health. Enjoy the good times. Overcoming obstacles with full force. Take your chance. Alternative: Know your options. Solving conflicts. Finding encouragement, healing, and hope.
Character:
Hot
Sun in combination with ...
Rider: Good prospects that something will work out. Good news. Positive thinking
Clover: Good timing. Much luck. Luck in gambling. Double luck
Ship: Summer. Success abroad. Holiday trip
House: Warmth and security. Dream house
Tree: Much energy. Good health. Long-lasting good times
Clouds: Things aren't what they seemed to be. Weakness
Snake: Finding warmth despite detours. Successful woman
Coffin: Nobody can stop you. Happy ending. Possibility of small problem
Bouquet: Luck and success. Zest. Fortunate visit
Scythe: Good results. Sudden increase. An end comes quickly
Whip: Competition. Sex. Energetic discussion
Oriole: Unfounded or irrational worries. Good discussions
Child: New start in summer. Joy about a child
Fox: Appearances are deceptive. Feigned strength
Bear: Double force and energy. Good time with a man other than your partner. Lucky man
Stars: Celebrity. Honor. Complete success. Inner peace
Stork: To achieve a result. Positive change
Dog: Good friend. Warm friendship
Tower: Increased performance. In peace lies strength
Park: Nice party. Great event. High society
Mountain: Blocked energy. Outbreak. Joy can't be expressed
Way: Courage to make unconventional decisions. Broadening horizons. Pleasant walk
Mice: Energy loss. No success at the moment. Power failure
Heart: Strong heart. Being on top of the world. Passion
Ring: Successful contract. Forceful relationship. Power supply
Book: Successful studies. Spiritual book
Letter: Ceremony. Good news
Man: Success. Charisma. Main character brings energy and joy
Woman: Leaving oneself behind. High energy
Lily: Sexual satisfaction. Success later in life. Happy family. Positive charisma
Moon: Beautiful romance. Daydreaming. Receiving something
Key: To take to something like a duck to water. Certain success
Fish: A lot of money. Financial increase. Wealth. Emotinal high
Anchor: Strong connection. Goal achieved
Cross: Decreasing power. Luck and energy. Luck is passing by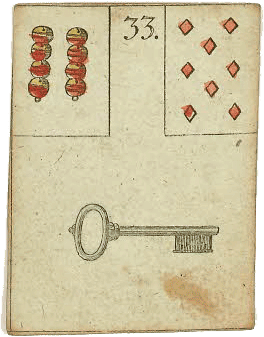 Moon
Meaning Emotions
Mirror of the soul. Emotional needs. Intuition. Fame and honor or social recognition. Alternative: Requited love and feelings of admiration. Conflicting emotions. Satisfaction.
Relationships:
Romantic fantasies. Daydreaming about love. Alternative: You can't handle too much closeness. Relationship with deep feelings.
Action:
Take things easy for a while. Step back. Pay more attention to feelings of others and your own feelings. Night shift. Alternative: Look after your nerves. Don't work too hard.
Character:
Intuitive
Moon in combination with ...
Rider: Contemplation is coming to an end. Romance with a new lover. Curious visitor. Night cruise
Clover: Luck. Thinking helps to achieve a goal. You'll find the solution within yourself
Ship: Honeymoon. Deep, unfulfilled desires. Meditation
House: Thinking about a house
Tree: Being occupied by thoughts. Emotional health
Clouds: Anxious state. Deep sadness. Uncertain fame
Snake: Recognition comes in a roundabout way. Creative woman. Annoyed woman
Coffin: Lack of creativity. Thinking doesn't lead to results. Sadness
Bouquet: Luck. Emotional growth
Scythe: Sudden difficulties. Separation. Sudden mood swings
Whip: Dispute that drains someone in some way. Dispute concerning creativity. Conflict about success
Oriole: Worried thoughts. Successful call
Child: Creative child. Fertility. Naive attitude
Fox: Resorting to denial. Successful job. Unnecessary brooding
Bear: Being acquainted with boss. Mental stability. Thinking about another man
Stars: Wise actions. Night sky. Being in the know. Clairvoyance
Stork: Tensed nerves. Personality change
Dog: Recognizing a friendship. Emotional support
Tower: Loneliness that brings sadness. Thinking about separation. Tribute to the government
Park: Popularity. Nightlife. Meeting at night. Public recognition
Mountain: Being frustrated and annoyed. Lonely. Lack of creativity
Way: Decision under pressure. Emotional decision. Decision is not lightly
Mice: Losing one's nerve. Drug addiction. Insomnia
Heart: Beautiful night. Deep love. Sincere feelings
Ring: Committed relationship. Creative contract. Marriage. Important bond
Book: Non-fiction. Secret admiration. Night school
Letter: Irritating message. Love letter. Acceptance. Nocturnal contact
Man: Soulful man. Main character gets nervous
Woman: Intuitive woman. Main character gets nervous
Lily: Fulfilled sexual relationship. Affair with a mature man
Sun: Big success. Emotional stability
Key: Self-confidence. Success is guaranteed
Fish: Deep emotional connection. Thoughts about money. Creative company
Anchor: Emotional stability. Prolonged success. Bothered at work
Cross: The tension will be eased. Emotional burden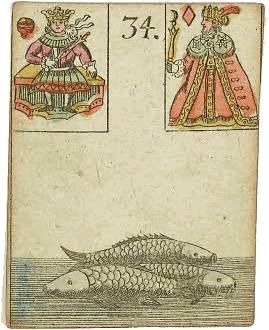 Key
Meaning Certainty
Something will happen no matter what. Key to success. Fulfillment. Something stays closed. Alternative: Solution is within reach. Taxes. Budgeting. Financial planning. Something to unlock or complete.
Relationships:
Karmic connection. Someone remains closed-off. Secure relationship. Nothing can go wrong. Alternative: Just wait to see who wants to meet you in the near future. Stable relationship.
Action:
Before you make a decision, carefully look at what is important. Move forward. Alternative: Open yourself in the areas of your relationship that need more attention. Develop a plan B.
Character:
Careful
Key in combination with ...
Rider: Guaranteed success. Important visitor. Important and good message
Clover: Something goes over well. Good times. Relating to one another
Ship: Life truly begins. Successful journey
House: Key for a house. Important family. Project has good basis
Tree: Mastering life. Spiritual things to watch. Life runs in fixed frame
Clouds: Can't avoid something. Necessary clarity
Snake: Act wisely. New problems emerge. Danger
Coffin: Unhealthy situation. Disease
Bouquet: Pure joy. Good times. Get lucky. Invitation comes
Scythe: Attack. Be careful. Important decision
Whip: Advice gives security. Dispute that can not be avoided. Clear conversations. Getting advice
Oriole: Important call. Long discussion will show the right way
Child: Need for new beginnings. Spiritual child. Security through child
Fox: Achieving goals through fraud. Important task. Failure
Bear: A man brings security. Financial profit
Stars: Important knowledge. Matters get explained
Stork: Significant change. Necessary change
Dog: Important friend. Necessary support. Friend through thick and thin
Tower: Certain separation. Separation leads to more security
Park: Acquaintances bring security. Network
Mountain: Spiritual retreat. Necessary delay. Definite blockage
Way: Reversal is necessary. Decision gives security. Decisions must be made
Mice: Something will surely be lost. Be vigilant. Uncertainty
Heart: Meaningful interest in romance. Express your love. Love comes for sure
Ring: Relationship brings security. Stay on your path. Certain contract
Book: Knowledge gives security. Secret is not revealed
Letter: Expected message comes for sure. Required messages
Man: Steady man. Significant man. Man you can rely on
Woman: Unavoidable things will happen. Secure woman. If you are a single man, the next woman will be Mrs. Right
Lily: Family will reunite
Sun: Strong intuition. Guaranteed success. Happy ending
Moon: Dreams of what will come. Success
Fish: Being attentive. Secure income. Money provides security
Anchor: Steady job. Reaching goals. Recognition at work
Cross: Fate. Karmic determination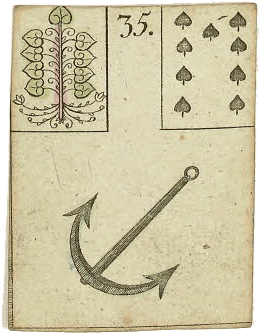 Fish
Meaning Possession
Finances. Subconscious forces. Mental balance. Drug addiction. Alternative: A mature man. Restless and nervous. Deep emotions. Influenced by money.
Relationships:
Relationship with a soul mate. Lucrative connection. Alternative: Avoid emotional outbursts. Love of possessions. Listen to your inner voice.
Action:
Check your financial affairs; you may have overlooked something. Alcohol in moderation is necessary. Alternative: Entrepreneurship. Follow your intuition. Good earning potential.
Character:
Materialistic
Fish in combination with ...
Rider: Postman brings money. Financial progress
Clover: Luck with money. Profit
Ship: Greed. Making money. Fishing trip
House: Wealthy family. Work around home. Expensive house
Tree: Steady and secure income. Good business. Old money
Clouds: Feeling unwell. Financial uncertainty. Drug addiction
Snake: Financial worries. Wealthy woman. Financial uncertainties disappear
Coffin: Unproductive capital. Hangover. Financial losses
Bouquet: Money gift. Heritage. Alcoholic
Scythe: Dismissal. Unexpected money
Whip: Conflict about money. Conflicted soul
Oriole: Money worries. Discussions about money
Child: Little money. Poverty
Fox: Cooking the books. Corporate fraud. Fraud in financial affairs
Bear: Nice, rich man. A lot of money. Alcoholic
Stars: Clarifying financial matters. Creative business
Stork: Financial change. Expansion. New customers
Dog: Soul mate. Wealthy social circle. Wealthy friend
Tower: Savings. Reserves. A safe deposit box. Bank
Park: Fundraising. Prosperous social circle
Mountain: Limited money. Financial worries
Way: Emotional decision. Financial decision
Mice: Financial problems. Faced with financial ruin. Debts
Heart: Important relationship. Love for money. Great love. Platonic love
Ring: Relationship for money. Marriage of convenience
Book: Unknown source of income. Tax office. Money from abroad
Letter: Payment. Superficial emotions. Savings certificate
Man: Prosperity. Businessman. Wealthy main character. Problems with alcohol
Woman: Materialistic woman. Woman who designs something. Problems with alcohol
Lily: Money through inheritance. Wealthy family. Established company
Sun: Emotional high. Financial success. Money brings happiness
Moon: Business dreams come true. Financial recognition
Key: Concerns about financial security. Financial success
Anchor: High earnings. Long-term income. Working independently
Cross: Mental stress will decrease. Financial burden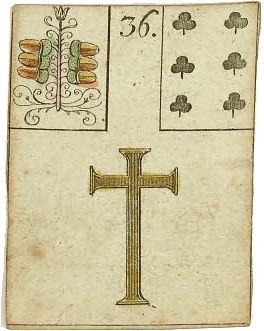 Anchor
Meaning Keep hold of
Work. Profession. Good business. Alternative: What goes around comes around. Addictions.
Relationships:
An open relationship in which you are free to stay or go. Being the proverbial anchor in relationships. Alternative: Learn to let it go. Loyalty in love. Beware of being too dependent.
Action:
Seasonal work. Your efforts will bear fruit. Put your career interests first. Alternative: Let go of rigid thought patterns. Engage yourself.
Character:
Binding
Anchor in combination with ...
Rider: There is someone new. News at work. Good messages. New opportunity at work
Clover: Joy at work. Lucrative job
Ship: Long commute. Long journey. Professional blunder
House: Home office. Place to live for a while
Tree: Release as a live topic. Long and healthy life. Working in the health sector. Right job. Boring job
Clouds: Unclear working situation. Job uncertainty. Unbearable working conditions
Snake: Caution. Problem. Female employees
Coffin: Unhappy at job. Working in the health sector
Bouquet: Enjoying work. Job well done. Nice colleagues
Scythe: Dangerous job. Sudden job offer
Whip: Several jobs. Prolonged conflicts. Dispute at work
Oriole: Tedious discussions. Lifetime partnership. Excitement at work
Child: Small business. New job. Working with children
Fox: Bogged down in lies. Long-term work. Goals achieved with cunning
Bear: Stable income. Good boss
Stars: Job-related decision is finally made clear. Big performance
Stork: Temporary work. Career change. Frequently-changing tasks
Dog: Stable friendship. Loyalty to employer
Tower: Employment exchange. Old companies. Authorities. Self-employment
Park: Working with people. Big company. Working in the public sector. Hospital
Mountain: Standstill. Difficult boss. Big hurdles
Way: Career choice. Work-related decisions. Setting new goals. Roadworks
Mice: Unemployment. Termination of employment. Stuck
Heart: Love to work. Long-term romantic relationship. Turning the hobby into a career
Ring: Bond, that is difficult to solve. Long-term relationships. Job contract
Book: Detective agency. Work-related studies. Business secret. Continuing professional education
Letter: Communicative job activities. Working with documents. Office work
Man: Loyal. Stable. Hardworking. Heart is set on something and cannot escape it
Woman: Determination. Reliability. Heart is set on something and cannot escape it
Lily: Harmonious working atmosphere. Satisfaction
Sun: Safely reaching a goal. Creative job
Moon: Famous work. Work at night. Therapist
Key: Safe workplace. Safely reaching a goal. Steady job
Fish: Prosperity. Drug addiction. Pastor
Cross: Reduction of duties. Long-term burden. Occupation is determination
Cross
Meaning Fate
Burden. Karma. Salvation. Something is unavoidable. Key event. Alternative: Taking initiative. Taking responsibility. Educate yourself.
Relationships:
Partner for life. Being there for each other. Alternative: Silent suffering. Unrequited love. Partnership is put to the test.
Action:
Sacrifice yourself for the common good. Religious attitudes. Action. Alternative: Accept upcoming tasks. Listen to well-meaning advice. Doing things carefully.
Character:
Devoted
Cross in combination with ...
Rider: Certain visitor. Help is coming. Very good messages
Clover: Big luck. Hope. Happy life
Ship: Fateful journey. Longing passes by
House: House dears to your heart. Church. Synagogue. Mosque. Time at this location has expired
Tree: Extreme boredom. Looking after health. Healing
Clouds: Look for help dealing with chaos. Guilt
Snake: Burdened woman. Difficulties increase
Coffin: Spiritual transformation. Something dies inside of you. Karmic disease
Bouquet: Lucky in life. Relief
Scythe: Danger approaches. Sudden pain. A major challenge will be overcome
Whip: Unavoidable conflicts. Abuse. Increasing difficulties. Fateful conversation
Oriole: Worries come up a lot. Difficult discussions
Child: Painful birth. New beginning
Fox: Tendency toward justice. Difficult task
Bear: Financial burden. A man other than your partner will play an important role in your life. Powerful allies
Stars: Fate. Finally finding clarity. Everything will clear up soon
Stork: Predictable exchange. Improvement. Momentous changes. Learning flexibility
Dog: Patience is at the end. Help from a friend. Karmic friendship
Tower: Legal burden. Conflict with the government. Separation
Park: Cemetery. Increasing contact with others. Support system
Mountain: Loneliness. Difficulties increase
Way: Painful farewell. Fateful decision
Mice: Small loss becomes more important. Learning your lesson. Collapse
Heart: Predetermined love. Heartache. Love is growing. Karmic love
Ring: Remorse. Important relationship. Difficult obligation. Connection-related conflict can't be solved
Book: Increasingly secretive. Religious documents. Painfully keeping a secret. Fated secret. Destiny is to be a writer
Letter: Fateful message. Difficult messages
Man: Important religious man. Soulmate. Feels punished by life
Woman: Taking good care of yourself. Soulmate. Spiritual woman
Lily: Pain related to age. Harmonic atmosphere. Family becomes more important
Sun: Relief. Predictable success. Everything will succeed. Long life with a lot of energy and happiness
Moon: Fateful knowledge. Self-sacrifice. Spare your nerves
Key: Karmic determination
Fish: Religious business. Financial burden. Charity. Karmic relationship
Anchor: Fateful work. Regret. Challenging work