The first card drawn shows the present
1. Current situation:
Your card: Anchor
Work. Profession. Good business. As well: What goes around comes around. Addictions.
An open relationship in which you are free to stay or go. Being the proverbial anchor in relationships. Learn to let it go. Loyalty in love. Beware of being too dependent. Seasonal work. Your efforts will bear fruit. Put your career interests first. Let go of rigid thought patterns. Engage yourself
How you will reach your destination is the second card information
2. Right way:
Your card: Cross
Burden. Karma. Salvation. Something is unavoidable. Key event. As well: Taking initiative. Taking responsibility. Educate yourself.
Partner for life. Being there for each other. Silent suffering. Unrequited love. Partnership is put to the test. Sacrifice yourself for the common good. Religious attitudes. Action. Accept upcoming tasks. Listen to well-meaning advice. Doing things carefully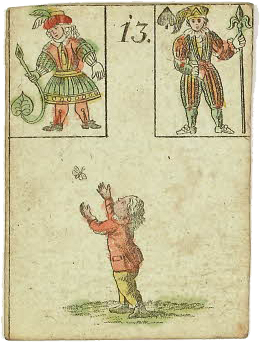 Where this way is leading to, indicates the third card
3. Future and destination:
Your card: Child
Personal card. Child. Curiosity. Innocence. Free and unburdened. Small. As well: One's own child up to puberty. Youth. Growth.
Childhood. Open to new friends. Dependent. New love. Natural state. Immaturity. Bad planning. Love has to grow. Apprenticeship. Purity. Let your inner child out. Start from the beginning. It's a good time for a new start. Forget about everything. Let yourself be guided by reason