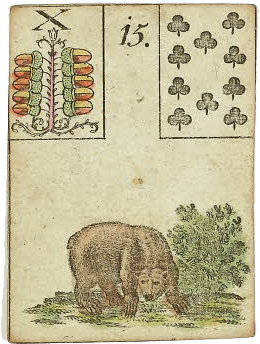 The first card drawn shows the present
1. Current situation:
Your card: Bear
Personal card. Boss. Stubbornness. Older or official person. Strength. Power. Possession. As well: Luck. Progress in work. Find an agreement.
A father figure. A protector. A sober person. Presumptuous. Intimidating. Rival. Ex-husband. A coach. Trust someone. Body-builder. Be assertive. Trust yourself. Avoid people who envy your luck. Aggressive. Mobbing
How you will reach your destination is the second card information
2. Right way:
Your card: Anchor
Work. Profession. Good business. As well: What goes around comes around. Addictions.
An open relationship in which you are free to stay or go. Being the proverbial anchor in relationships. Learn to let it go. Loyalty in love. Beware of being too dependent. Seasonal work. Your efforts will bear fruit. Put your career interests first. Let go of rigid thought patterns. Engage yourself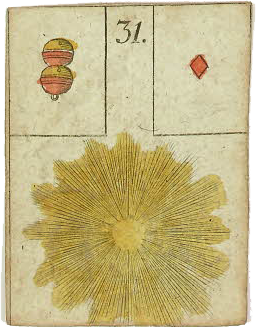 Where this way is leading to, indicates the third card
3. Future and destination:
Your card: Sun
Health. Warmth. Creativity. Vitality. As well: Engagement ring. Endless wonders. Positive influence.
Someone can give a lot of love. Good care. Luck. Generosity. Not being cared about enough. Lack of empathy. Dreams are fulfilled. Caring for health. Enjoy the good times. Overcoming obstacles with full force. Take your chance. Know your options. Solving conflicts. Finding encouragement, healing, and hope