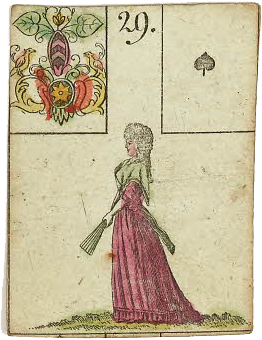 The first card drawn shows the present
1. Current situation:
Your card: Woman
Yourself, or Queen of Hearts / wife / partner when the person seeking advice is male. If there is a wife and a lover, then this card represents the lover. In this case wife / girlfriend would be the Snake. As well: End of a cycle. New beginning by transformation.
Well-developed female characteristics. Illuminate sources of tension. Happiness in love is questioned. Your own needs should take priority. Make your own decisions. Win recognition. If you are a man: Listen more to your partner's opinion. Show her how important she is
How you will reach your destination is the second card information
2. Right way:
Your card: Cross
Burden. Karma. Salvation. Something is unavoidable. Key event. As well: Taking initiative. Taking responsibility. Educate yourself.
Partner for life. Being there for each other. Silent suffering. Unrequited love. Partnership is put to the test. Sacrifice yourself for the common good. Religious attitudes. Action. Accept upcoming tasks. Listen to well-meaning advice. Doing things carefully
Where this way is leading to, indicates the third card
3. Future and destination:
Your card: Park
Audience. Customers to meet. Official occasion. Something becomes visible. As well: Health occupations. Quiet. Sunday. Theater. Big event.
Friends. Relatives. Family events. Listen to opinions of others. Don't keep quiet. Networking. Join online communities. Publicize your concerns. Strong public encouragement. Be mindful of others. It's not always necessary to use force to succeed