The first card drawn shows the present
1. Current situation:
Your card: Scythe
Risk. Unexpected development. Acute condition. Something sudden and surprising. As well: Where the scythe is pointing is the danger. Restless and full of nervous energy. Immature and impetuous.
The sudden end of something. Look you at the surrounding cards to see which topic is concerned. You will reap what you sow. Surprising love. Don't hesitate to use your weapons. Don't make far-reaching decisions. Be extra careful. Change of job. Watch out that you don't hurt yourself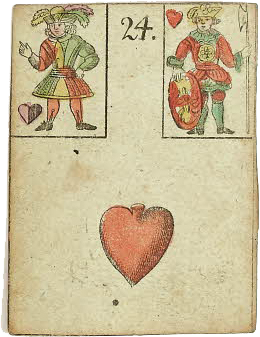 How you will reach your destination is the second card information
2. Right way:
Your card: Heart
Warmth. Luck. Partnership. Intimate emotions. Put your whole heart into it. As well: Helpfulness. Lover. Someone is expected. Unmarried or immature.
Everything happens according to your wishes. Someone who is loved and appreciated. An affair. Sexual suggestions. The one you love will empower you. Vulnerability. Give your heart away. Track your route. Rely on the people you love
Where this way is leading to, indicates the third card
3. Future and destination:
Your card: Rider
Personal card. Transportation. Good message. Something will be moved. New beginning. Bad cards will be softened, good cards strengthened. As well: Fulfilled desires. Success. Victory. A dream come true. Self-esteem. Nice surprise.
Someone new will come into your life. Old passion is rekindled. Lack of engagement. Bad messages. Decisions instead of reactions. Sometimes arrogant. You will receive a delivery or registered mail. Act quickly. Take your chance. Love for details. Too many projects. You can't finish everything you have started. Don't move too fast