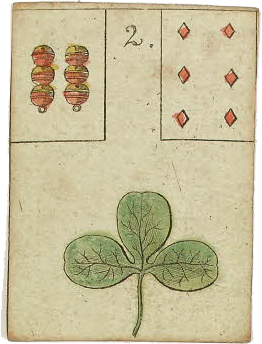 The first card drawn shows the present
1. Current situation:
Your card: Clover
Luck. Good job. No reason to worry. Opportune time. As well: Positive output when acting quickly. Loan. Investments. Some money. Shyness. Nervousness. Seclusion. Hinderance of growth.
Love is growing steadily and still young. Meeting by accident. Unexpected flirt or visitor. Happy moments with friends. Creativity and luck. One-night stand. Rapidly falling in and out of love. Lack of creativity. A lucky streak comes to an end. Realize your plan. A small recognition for your work. Putting one's ideas into practice. Lack of creativity. Bad planning. To go unnoticed. Being passed over for a promotion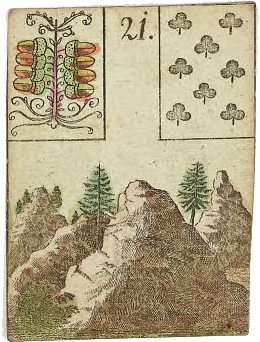 How you will reach your destination is the second card information
2. Right way:
Your card: Mountain
Personal card. Block. Inhibitions. Frustration. As well: Big. Strong. Good-natured.
Desire to overcome obstacles to love and to find understanding. Longing for someone or something. Infatuation that prevents you from going ahead. Don't be stubborn. Look for another solution. Be diplomatic. Avoid quarrels. Finding another way. Expecting difficulties or loss. Disability. Accept a challenge. Rethink and search for alternatives. Be patient. Wait
Where this way is leading to, indicates the third card
3. Future and destination:
Your card: Stork
Journey. Move. Changing jobs. Flexibility. As well: Turning back. Mother figure. Transformation.
This card represents constant change. Look at the surrounding cards to find out to what is changing or affected by change. Start changes. Change by or through partnership. You should think about a reversal. Change your life. Take action to start something new. Don't move in the wrong direction