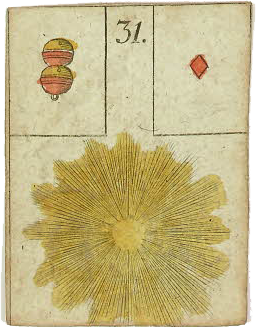 The first card drawn shows the present
1. Current situation:
Your card: Sun
Health. Warmth. Creativity. Vitality. As well: Engagement ring. Endless wonders. Positive influence.
Someone can give a lot of love. Good care. Luck. Generosity. Not being cared about enough. Lack of empathy. Dreams are fulfilled. Caring for health. Enjoy the good times. Overcoming obstacles with full force. Take your chance. Know your options. Solving conflicts. Finding encouragement, healing, and hope
How you will reach your destination is the second card information
2. Right way:
Your card: House
Stability. House. Family. Authority. As well: Father figure. Husband. Man who is loved. Man who cares about the person for whom the cards are placed. Importance of this person.
Familiar. Warm. Calm and safe. Your own body. Security. Long-term partnership. A good time to forge future plans. Long-term security should be the goal. Go for promotion. Don't build your foundation on sand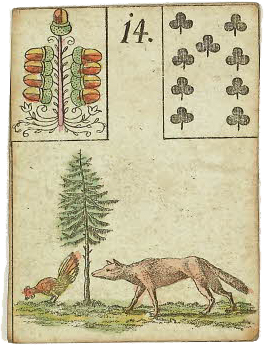 Where this way is leading to, indicates the third card
3. Future and destination:
Your card: Fox
Personal card. Fraud, lies, dishonesty. Falseness, self-deception, or negative attitude. The wrong time for something. As well: New responsibilities at work. Fate points you in the right direction. Distance.
Do what needs to be done to provide for your family. Open your eyes. Intrigue. Deception. Lack of trust or respect. Don't be made a fool. Hard work. Being smart and cunning. Be alert. Nobody's fool. Illegal activities to get by. Stop gossip. Go the way of truth