Your free daily Lenormand reading
You drew the card
Bear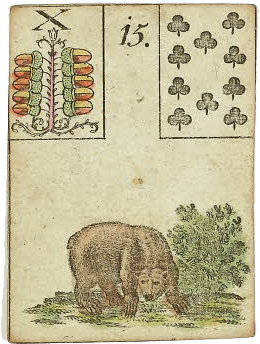 Main theme for this day:
Personal card. Boss. Stubbornness. Older or official person. Strength. Power. Possession.
This card can also indicate:
Luck. Progress in work. Find an agreement.
Within love, relationship and partnership the card Bear signifies:
A father figure. A protector. A sober person. There can be also another meaning: Presumptuous. Intimidating. Rival. Ex-husband
It points to:
A coach. Trust someone. Body-builder. Be assertive. But also: Trust yourself. Avoid people who envy your luck. Aggressive. Mobbing.