Your Lenormand reading - The Cross
You put these four cards:
| | | |
| --- | --- | --- |
| | 3. Right way: | |
| 1. Theme: | | 2. Wrong way: |
| | 4. Destination: | |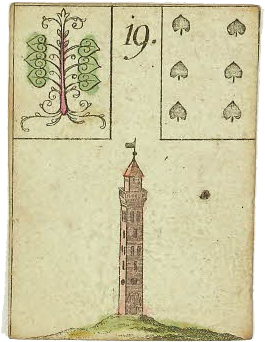 The first card describes the starting position. .
1. Theme:
Your card: Tower
Authority or office. Loneliness or isolation. As personal card: person in a leading position. As well: Release. Clean up to free up space. Out with the old, in with the new. Divorce.
Active looking for love. Search for relationship. Can't go ahead. Loneliness and solitude. It won't be an easy task. Corporations. Government agencies. Offices. Organizations. Independence. Planning. Setting limits. You won't get help. Be careful with your health. Don't isolate yourself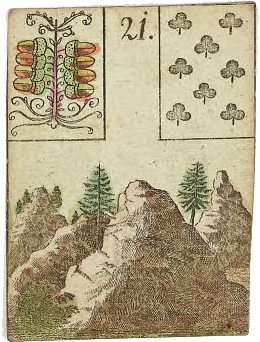 What to avoid and what's the wrong way? This tells the second card.
2. Wrong way:
Your card: Mountain
Personal card. Block. Inhibitions. Frustration. As well: Big. Strong. Good-natured.
Desire to overcome obstacles to love and to find understanding. Longing for someone or something. Infatuation that prevents you from going ahead. Don't be stubborn. Look for another solution. Be diplomatic. Avoid quarrels. Finding another way. Expecting difficulties or loss. Disability. Accept a challenge. Rethink and search for alternatives. Be patient. Wait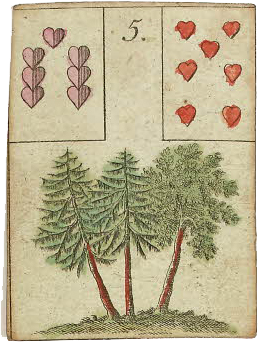 The third card shows the right direction. This is what you can do.
3. Right way:
Your card: Tree
Life. Roots. Calm. As well: Boredom. Rest and satisfaction. Reflection. Divine consciousness. Altar. Repeat.
Haste makes waste. A strong karmic relationship. Good health. Gridlock. Stunting karmic themes. Little personal development. Bad health. Bad habits. Your patience is needed. Prepare to go out of your way. Avoid upsets. Be patient
The fourth card shows a solution on how to get there.
4. Destination:
Your card: House
Stability. House. Family. Authority. As well: Father figure. Husband. Man who is loved. Man who cares about the person for whom the cards are placed. Importance of this person.
Familiar. Warm. Calm and safe. Your own body. Security. Long-term partnership. A good time to forge future plans. Long-term security should be the goal. Go for promotion. Don't build your foundation on sand