Your Lenormand reading - The Cross
You put these four cards:
| | | |
| --- | --- | --- |
| | 3. Right way: | |
| 1. Theme: | | 2. Wrong way: |
| | 4. Destination: | |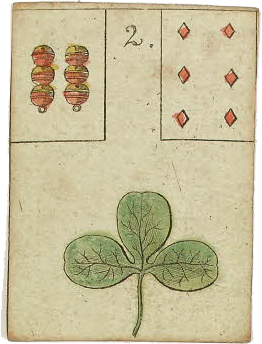 The first card describes the starting position. .
1. Theme:
Your card: Clover
Luck. Good job. No reason to worry. Opportune time. As well: Positive output when acting quickly. Loan. Investments. Some money. Shyness. Nervousness. Seclusion. Hinderance of growth.
Love is growing steadily and still young. Meeting by accident. Unexpected flirt or visitor. Happy moments with friends. Creativity and luck. One-night stand. Rapidly falling in and out of love. Lack of creativity. A lucky streak comes to an end. Realize your plan. A small recognition for your work. Putting one's ideas into practice. Lack of creativity. Bad planning. To go unnoticed. Being passed over for a promotion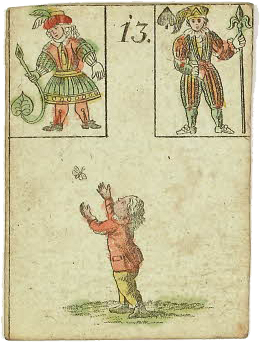 What to avoid and what's the wrong way? This tells the second card.
2. Wrong way:
Your card: Child
Personal card. Child. Curiosity. Innocence. Free and unburdened. Small. As well: One's own child up to puberty. Youth. Growth.
Childhood. Open to new friends. Dependent. New love. Natural state. Immaturity. Bad planning. Love has to grow. Apprenticeship. Purity. Let your inner child out. Start from the beginning. It's a good time for a new start. Forget about everything. Let yourself be guided by reason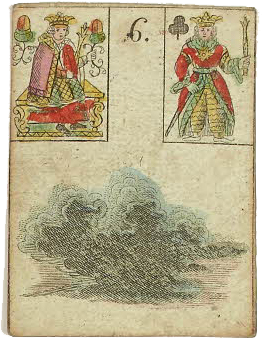 The third card shows the right direction. This is what you can do.
3. Right way:
Your card: Clouds
Ambiguities. Difficulties. Lack of perspective. Confusion caused by medication or something else. As well: Dreams. Problems. Lack of independence. Getting things by cheating.
Looking at partnership from a different perspective. Short-term problems. Fear of excessive demand. Confusion. Mourning. Depression. Listen to the inner voice. Take difficulties seriously. Make a fresh start. Avoiding great efforts. Don't take the emotional aspect out of consideration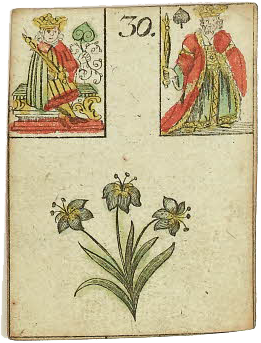 The fourth card shows a solution on how to get there.
4. Destination:
Your card: Lily
Harmony. Family. Intimacy. As well: Peace. Consistency. Old age.
Mature. Experience. Sexual appetite. Keeping the peace. Sexual deviation. Someone who likes younger partners. Harmonic partnership. Don't take love for granted. Don't cause a stir. Clear the air. Be careful not to exaggerate. Letting something rest in peace