Your Lenormand reading - The Cross
You put these four cards:
| | | |
| --- | --- | --- |
| | 3. Right way: | |
| 1. Theme: | | 2. Wrong way: |
| | 4. Destination: | |
The first card describes the starting position. .
1. Theme:
Your card: Scythe
Risk. Unexpected development. Acute condition. Something sudden and surprising. As well: Where the scythe is pointing is the danger. Restless and full of nervous energy. Immature and impetuous.
The sudden end of something. Look you at the surrounding cards to see which topic is concerned. You will reap what you sow. Surprising love. Don't hesitate to use your weapons. Don't make far-reaching decisions. Be extra careful. Change of job. Watch out that you don't hurt yourself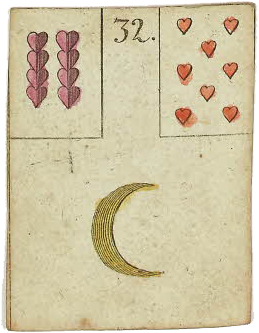 What to avoid and what's the wrong way? This tells the second card.
2. Wrong way:
Your card: Moon
Mirror of the soul. Emotional needs. Intuition. Fame and honor or social recognition. As well: Requited love and feelings of admiration. Conflicting emotions. Satisfaction.
Romantic fantasies. Daydreaming about love. You can't handle too much closeness. Relationship with deep feelings. Take things easy for a while. Step back. Pay more attention to feelings of others and your own feelings. Night shift. Look after your nerves. Don't work too hard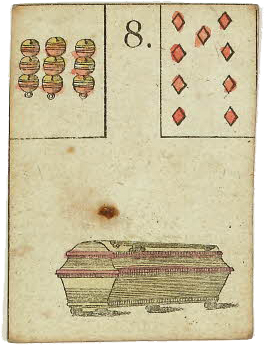 The third card shows the right direction. This is what you can do.
3. Right way:
Your card: Coffin
Disease. Farewell. Letting go. Standing still. As well: Finances grow. Profit. Someone has to rely on you to succeed. An official comes into play. Spiritual growth caused by suffering.
Natural end of a relationship. A new relationship is waiting. Protect yourself from bad energy. Quit current matters. Draw conclusions. Need a break. Hospital visit. It is a good time to bring something to an end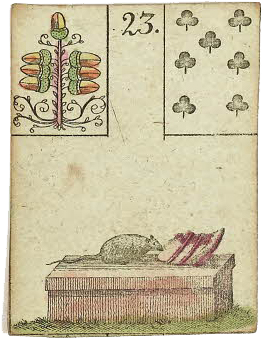 The fourth card shows a solution on how to get there.
4. Destination:
Your card: Mice
Something gnaws at conscience. Theft. Slow decrease. Defeat. Failure. As well: Hard work. A dispute. Spiritual / occult learning. Studies. Hope will not be realized.
You are running out of time. Loss of sorrows. Promises are not met. Loss of relationships. Be careful. Pay attention to small signs. Happiness is threatened. Solve your problem systematically. Act quickly. Remain alert. Take more time to be compassionate. Nervousness. Stay true