Your Lenormand reading - The Cross
You put these four cards:
| | | |
| --- | --- | --- |
| | 3. Right way: | |
| 1. Theme: | | 2. Wrong way: |
| | 4. Destination: | |
The first card describes the starting position. .
1. Theme:
Your card: Man
Questioner himself, or King of Hearts / husband / partner when the person seeking advice is a woman. If there is a husband and a lover, then this card represents the lover. In this case husband / boyfriend would be the Bear. As well: House. Seat of the soul.
Well developed male characteristics and traits. If you are a woman: Listen more to your partner's opinion. Show him that he is important. Competing with partners. Happiness in love is questioned. Use your fighting skills. Go to the foreground. Make decisions. Don't pressure your partner if they are weak. Don't listen to what others say. Winning recognition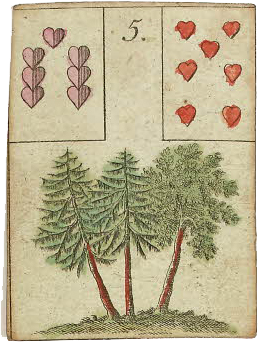 What to avoid and what's the wrong way? This tells the second card.
2. Wrong way:
Your card: Tree
Life. Roots. Calm. As well: Boredom. Rest and satisfaction. Reflection. Divine consciousness. Altar. Repeat.
Haste makes waste. A strong karmic relationship. Good health. Gridlock. Stunting karmic themes. Little personal development. Bad health. Bad habits. Your patience is needed. Prepare to go out of your way. Avoid upsets. Be patient
The third card shows the right direction. This is what you can do.
3. Right way:
Your card: Scythe
Risk. Unexpected development. Acute condition. Something sudden and surprising. As well: Where the scythe is pointing is the danger. Restless and full of nervous energy. Immature and impetuous.
The sudden end of something. Look you at the surrounding cards to see which topic is concerned. You will reap what you sow. Surprising love. Don't hesitate to use your weapons. Don't make far-reaching decisions. Be extra careful. Change of job. Watch out that you don't hurt yourself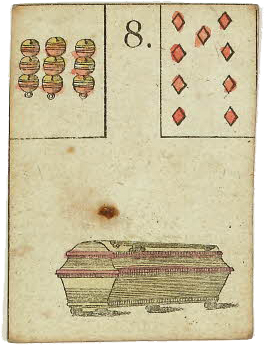 The fourth card shows a solution on how to get there.
4. Destination:
Your card: Coffin
Disease. Farewell. Letting go. Standing still. As well: Finances grow. Profit. Someone has to rely on you to succeed. An official comes into play. Spiritual growth caused by suffering.
Natural end of a relationship. A new relationship is waiting. Protect yourself from bad energy. Quit current matters. Draw conclusions. Need a break. Hospital visit. It is a good time to bring something to an end