Your Lenormand reading - The Cross
You put these four cards:
| | | |
| --- | --- | --- |
| | 3. Right way: | |
| 1. Theme: | | 2. Wrong way: |
| | 4. Destination: | |
The first card describes the starting position. .
1. Theme:
Your card: Scythe
Risk. Unexpected development. Acute condition. Something sudden and surprising. As well: Where the scythe is pointing is the danger. Restless and full of nervous energy. Immature and impetuous.
The sudden end of something. Look you at the surrounding cards to see which topic is concerned. You will reap what you sow. Surprising love. Don't hesitate to use your weapons. Don't make far-reaching decisions. Be extra careful. Change of job. Watch out that you don't hurt yourself
What to avoid and what's the wrong way? This tells the second card.
2. Wrong way:
Your card: Key
Something will happen no matter what. Key to success. Fulfillment. Something stays closed. As well: Solution is within reach. Taxes. Budgeting. Financial planning. Something to unlock or complete.
Karmic connection. Someone remains closed-off. Secure relationship. Nothing can go wrong. Just wait to see who wants to meet you in the near future. Stable relationship. Before you make a decision, carefully look at what is important. Move forward. Open yourself in the areas of your relationship that need more attention. Develop a plan B
The third card shows the right direction. This is what you can do.
3. Right way:
Your card: Ship
Trip. Distance. Circumstances change. Let events come to you. One longs for the card to which the ship is sailing. As well: Something moves forward. Exploitation. Theft. Fears and worries are exploited. Night.
Long-term relationship. Wait for the right one. Leave someone or a loved one behind. Someone from another country, who is far away at the sea. Starting a new business. Putting all one's eggs in one basket. Journeys - for fun or business. Don't rush. Let things happen without intervention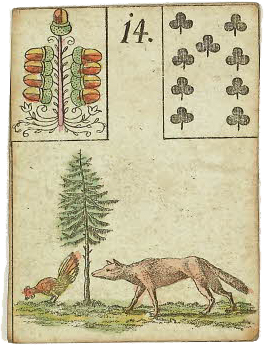 The fourth card shows a solution on how to get there.
4. Destination:
Your card: Fox
Personal card. Fraud, lies, dishonesty. Falseness, self-deception, or negative attitude. The wrong time for something. As well: New responsibilities at work. Fate points you in the right direction. Distance.
Do what needs to be done to provide for your family. Open your eyes. Intrigue. Deception. Lack of trust or respect. Don't be made a fool. Hard work. Being smart and cunning. Be alert. Nobody's fool. Illegal activities to get by. Stop gossip. Go the way of truth